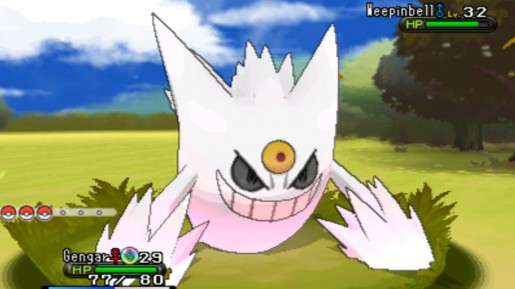 Last week, I let all of you readers know that Gamestop would be passing out vouchers for an exclusive shiny white Gengar for use in Pokemon X and Pokemon Y.  Today, those vouchers have gone live.
The vouchers to unlock a Shiny Gengar via Mystery Gift are in limited supply at Gamestop stores in North America. Quantities are limited but I do not believe a pre-order of Pokemon Alpha Sapphire/Omega Ruby should be required to receive a voucher. This festive white Gengar arrives just in time to celebrate Halloween with his spooky white ghost appearance.
Shiny Gengar should be transmittable to the upcoming Pokemon titles via the Pokemon Bank app for Nintendo 3DS. Pokemon Alpha Sapphire/Omega Ruby will launch in North America on November 21st.