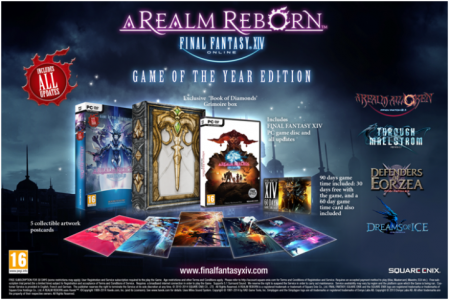 Square Enix announced today that Final Fantasy XIV: A Realm Reborn on PC will be getting a Game of the Year edition and will be released this November 14th.
The Game of the Year Edition will only be available for PC and comes bundled in a printed Book of Diamonds Grimoire box, along with five art cards, and 90 days worth of subscription to the game. As for the content, all previously released patches from 2.1 up to the latest 2.4 will be included in the game.
Unfortunately, the Game of the Year Edition of Final Fantasy XIV is only exclusive to PC platform. We're unsure if there will be a console version released down the line.