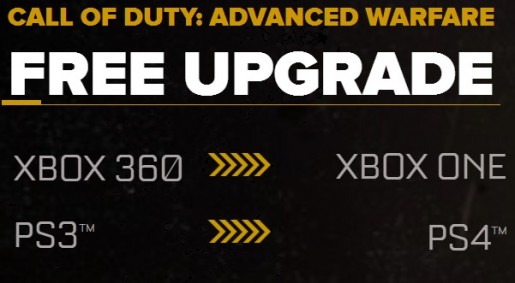 For a limited time, gamers that digitally purchase Call of Duty: Advanced Warfare for a last gen (PS3/360) console will be able to receive the next gen (PS4/XB1) equivalent for free.
The digital upgrade promotion for Call of Duty: Advanced Warfare was announced earlier today and gives gamers a chance to play the new title without having to commit to a next-gen console. As long as you choose to remain in the same console family, such as purchasing Advanced Warfare digitally for the PlayStation 3, a free digital copy will be waiting for you on the PlayStation 4.
For full game free upgrades, this is available only to those who purchase a digital copy of Call of Duty: Advanced Warfare on Xbox 360 or PlayStation®3. Anyone who purchases a physical copy of the game is not eligible for this offer. All DLC purchased for in-game use, including Season Pass, upgrades for free for purchases of Call of Duty: Advanced Warfare in any format, digital or physical.
This digital upgrade promotion also applies to the digital content offered for Call of Duty: Advanced Warfare, including the Atlas Gorge multiplayer map and season pass. Players won't have to worry about losing their character progression, as stats and levels are tracked on Activision's servers, ready to transfer between consoles. This is a limited time offer, as the upgrade campaign will last until March 31st, 2015.
Call of Duty: Advanced Warfare launches in North America on November 4th (November 3rd if you qualify for the Day Zero edition). Be sure to check back later for our continued coverage on Advanced Warfare, leading up to our review at launch!