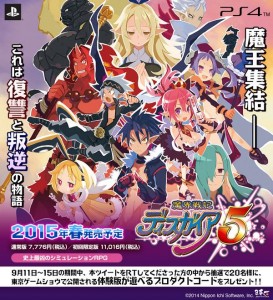 Nippon Ichi Software's Japan branch is giving away an exclusive demo for Disgaea 5 that will only be available to less than two dozen players.
To enter for your chance to win one of these exclusive Japanese demos for Disgaea 5, simply follow @nis_prinny on twitter and retweet this post.
This promotional campaign will be available from September 11th through the 15th. Fans will be randomly selected and given a download voucher to try out Disgaea 5, available exclusively on the PlayStation 4.