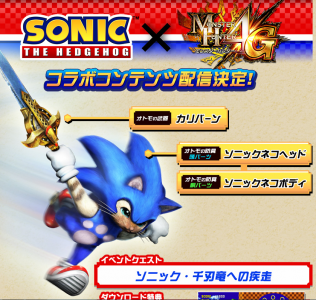 Capcom and Sega are teaming up for a new Monster Hunter collaboration just in time for Monster Hunter 4G to hit store shelves in Japan. Their crossover between the two companies is certainly something that wasn't quite expected by the average fan base.
The upcoming redux of Monster Hunter 4, dubbed 4G in Japan and Ultimate in the rest of the world, is getting an exclusive crossover promotion featuring Sonic the Hedgehog. This collab gives your felyne companion a full makeover in blue hedgehog attire including a one-handed blade based off Sonic's weapon from Sonic and the Black Knight. You can also show off your love for Green Hill Zone with a special guild card for you and your companion to pose for and pass out during Streetpass. While Monster Hunter 4G will launch in Japan on October 11th, the special Sonic DLC for your felyne won't be available until December 5th.
Monster Hunter 4 Ultimate will be hitting North America in Early 2015, exclusively on the Nintendo 3DS platform.