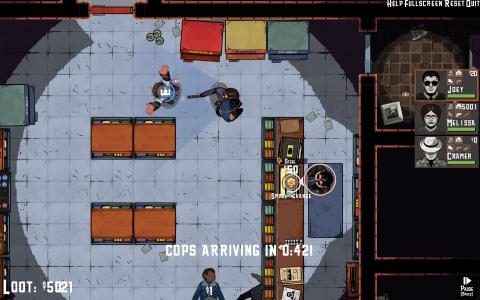 Shark Punch's debut game The Masterplan has finally made its way out of Steam Greenlight and is hitting the streets with an Early Access release.
Founded by a trio of ex-Disney Interactive devs, Shark Punch has wrapped up their first game and has released it to market with a first-look style affair. The Masterplan is a tactical heist game with a 2D top-down style, not unlike Hotline Miami's viewpoint. Swap Miami's electronic soundtrack with a live band performance and tone down the ultra violence to about a 3-3 1/2 and you've got the basic aesthetics for The Masterplan.
The Early Access version of The Masterplan is fully playable with several sandbox heist locations as well as additional updates launching every two weeks from the devs.
The Masterplan is fully playable on Steam Early Access and provides 1.5 – 2 hours worth of playtime. It features several heist locations, which are sandboxes, so players are encouraged to play through them several times with different tactics to experience various results. The game will receive updates every two weeks. You can purchase The Masterplan directly through their website, on Steam, and on The Humble Store.