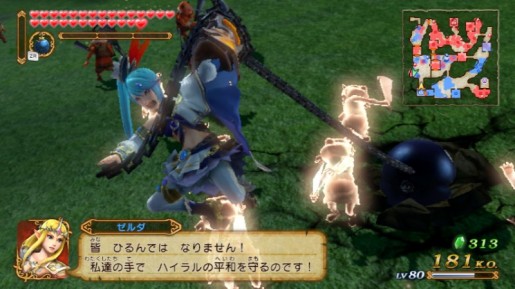 A recent glitch has been making its way around the Miiverse showcasing some interesting weapon swaps for Hyrule Warriors.
Once performed, this glitch for Hyrule Warriors allows a character to utilize the 'skins' or other weapons that the rest of the roster can equip. Imagine Ganondorf wielding the Master Sword, or Darunia using a parasol. You can check the steps down below, courtesy of Nintendo247 and a translation of an ongoing Miiverse Japan thread.
• Only doable in 2 player mode
• For Player 1 select a character with multiple weapons – this will be the skin character
• For Player 2 select a character with multiple weapons, but stop at weapon selection and go back to P1 weapon selection screen – this will be the actual character under the skin
• Player 1's weapons will be unselectable and locked at using Player 2's weapons (This was translated via miiverse Japan)
This glitch has only been performed in the Japanese version for Hyrule Warriors. We'll update this post soon and let you know if the glitch works in the American release as well. Until then, check back again and be sure to look for our review of Hyrule Warriors later this month!