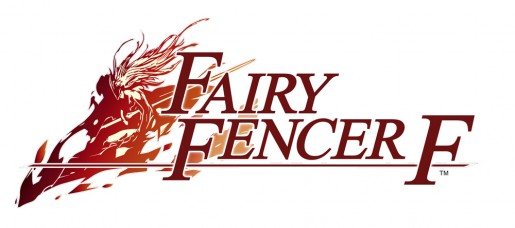 Galapagos RPG, a new RPG team working under Compile Heart's label, was founded early last year and quickly went to work designing new RPGs on Sony platforms. Fast forward to October 2013 when Fairy Fencer F, their first title under the new label, ships in Japan. Now less than a year later, North American gamers can finally get their hands on Fairy Fencer F in English. Is it worth the wait, or is Fairy Fencer F out of style?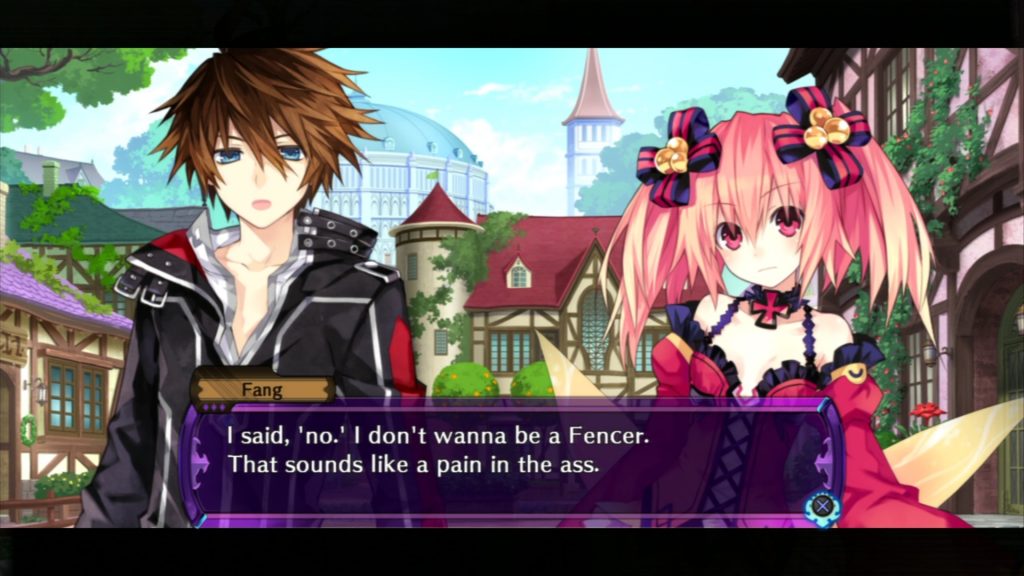 Fairy Fencer F opens with a habitually lazy swordsman by the name of Fang under arrest and thrown into jail for the crime of stealing bread, a recurring theme for the character. Thankfully his fairy companion Eryn, whose connection is explained in a brief flashback, is there to help him bust out. From then on, Fang quickly learns about the old wives tale of a Goddess and Vile God both sealed away by a great number of swords. Fang then takes it upon himself to take the role of Fencer and opts to become more of the hero archetype and track down the 100 fairies, or furies as they're referred to in the story, from around the world to help unseal the Goddess' power.
From the moment the start button is pushed, Fairy Fencer F opens with the same lighthearted story I've come to expect from a Compile Heart game. The developers know how to achieve a balance between serious save-the-world drama and dialogue on one hand, with slice of life and one-off comedy skits on the other. As the story goes on, it gets more and more serious as Fang turns into more of a true hero, but the game itself never gets TOO dark.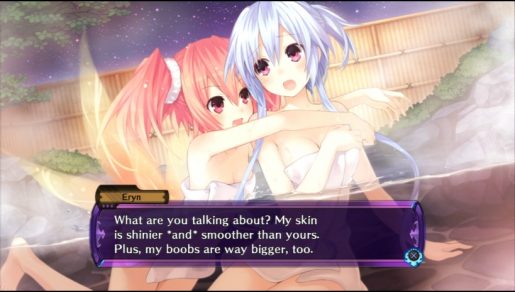 Many of the more unique characters, and their equally silly fairy partners, ensure this doesn't happen with their own style of humor. You've got Tiara who's an egotistical princess from a faraway land that secretly enjoys being ridiculed, Galdo,, a vagabond or thief by trade and seems to turn Canadian when the English voices are turned on, and Pippin, a green hybrid between a cat and body pillow with a giant sword plunged into his head (with a human-looking butler fairy at his side). There are quite a few more characters to join your party that ensure that Fang's life never has a dull moment any more (including a couple of secret ones to unlock much later on *shhh!*).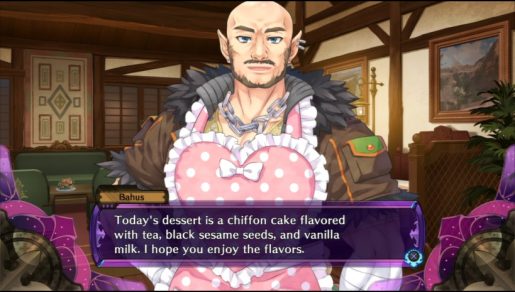 The act of unsealing the Goddess (or Vile God, if you'd prefer to take a trip down the evil side) is a pretty simple affair once it's unlocked. Furies exist in four different rarities: C, B, A, and S. Each sword that's been plunged into one of the two deities offers a similar rank. By matching these up, you then engage in combat with the evil presence residing inside each blade to purify it. Each blade that you purify has its own ability and world shaping ability. Depending on which fury you use to purify the blade will grow in power with new skills. These can range from being immune to particular status effects, dealing additional damage with a given weapon type, gaining a blessing that boosts EXP, gold, and item drop rates and more. In addition, you gain world shaping effects that I'll go into later. These fury abilities give an extra level of customization to each character and give a strong reason to favor one fury over the next while still giving you an arsenal of others to swap between if you want to specialize in a different strategy.
Fairy Fencer F Review

,