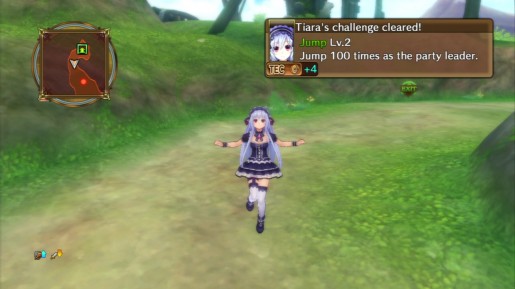 Fairy Fencer F takes place in a single overworld map that's centered over one small country surrounded by mountains by three sides and a giant lake to the south. In this single country, plenty of different climes and regions exist. To the far north are caves of ice, a large desert and volcano exist to the west, and small lakeside hamlets along with the country's primary hub city of Zelwinds to the south. In this diverse ecosphere, there are a number of different locations to explore and dungeons to delve into. Each location has their own style and music, so exploring the small areas to each dungeon feels different every time.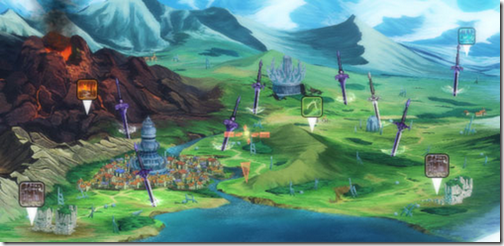 World shaping, as I had mentioned earlier, takes place on this overworld map as you start unlocking new areas to explore. Once a purified blade has been imbued with the power of a fury, they gain various shaping effects (dependent upon the weapon, not the fury used). Some of these can be as simple as +10% of one stat and -10% or another, or even go as far as to boost experience earned or change the enemies you'll face in each area entirely. These shaping effects can do wonders if you want to edge out a little bit better attack strategy with a higher physical attack or perhaps grind more efficiently with an experience point booster.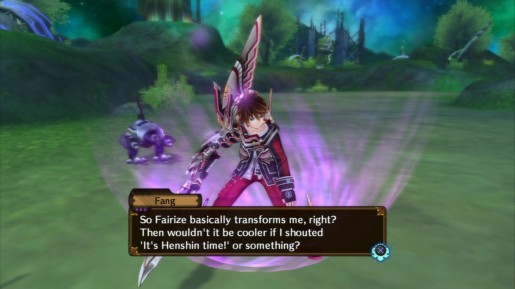 Combat in any role-playing game can arguably be one of the more important aspects of the game, second to the story in most cases. Fairy Fencer F delivers on the story by building up on the Hyperdimension Neptunia/Mugen Souls battle system that Compile Heart has been known for in recent years. Characters still move around a small confined arena and dish out attacks with various ranges and areas of effect. It's pretty easy to break this by investing a few points into each character's Range, allowing them to attack just about anyone on the field without moving a foot forward. Another unique mechanic to work with is the Fairize ability. Each party member essentially fuses with their fairy partner to become a powerhouse for a limited time, dealing more and receiving less damage in this new Fury form.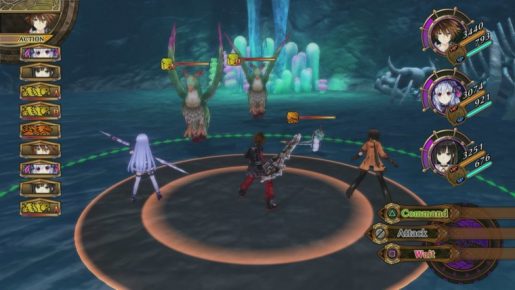 Combos are pretty straightforward and easy to customize, offering a diverse bit of customization to each character's style. Their first move in a combo is always an opening strike with their weapon of choice (knuckles, gun, sword, etc.). After that, each character has a number of different weapon styles to customize their attack palettes with. Like using Harley and her gun but want to mix it up with some spear and scythe moves at the end? That's easy to tweak, same with adding in launcher or pursuit moves to end an attack chain. Most enemies you encounter have a weakness to particular enemy types. Attacking with these weapon types can sometimes trigger an Avalanche Attack, where as soon as one character finishes attacking, it immediately leads into the other two party members' attacks, leading to a fairly damaging and effective combo. This won't happen every time, but when it does, you'll be glad to eke out those extra thousands of damage.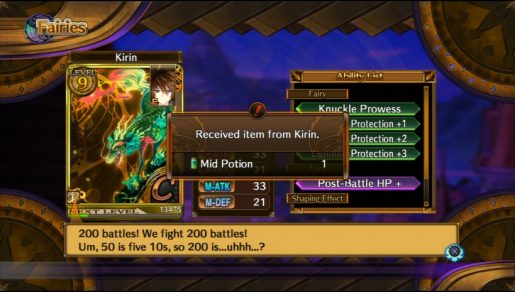 It would be a disservice to Galapagos RPG to not talk about the team they have assembled to work on Fairy Fencer F. Most of the Hyperdimension Neptunia team has helped with development, giving it that signature visual style and combat. Nobuo Uematsu (along with his band Earthbound Papas) helped to compose the soundtrack along with Kenji Kaneko (of Agarest and Neptunia fame) and others. The track that plays when you Fairize during combat is a fast-paced rock track with catchy vocals and beats that makes it my favorite song in the game. Also helping to craft the visual side of Fairy Fencer F are Yoshitaka Amano (concept artist) and Tsunako (lead character artist for both Fairy Fencer F and the Neptunia series). Toshiki Inoue, a screenwriter famous for his works on Kamen Rider and Death Note, also aided as the scenario writer. Together, these talented individuals helped work together to craft a unique role-playing game that's certainly worth exploring if you're a fan of any of their previous works.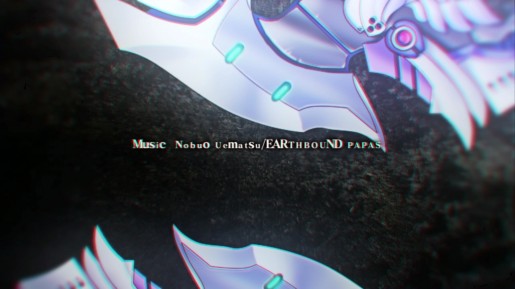 Fairy Fencer F is a fun little diversion if you're looking for an easy-going RPG to keep you busy for a short while. With multiple endings and an end-game dungeon that facilitates grinding and finding ways to break the game's mechanics, there's plenty to do and discover. Neptunia's signature combat system has certainly been evolved from previous titles into Fairy Fencer F and it's certainly a matter of love it-or-hate it.
[Editor's Note: Fairy Fencer F was reviewed on the PlayStation 3. Review code was provided to us by the publisher.]
Fairy Fencer F Review

,