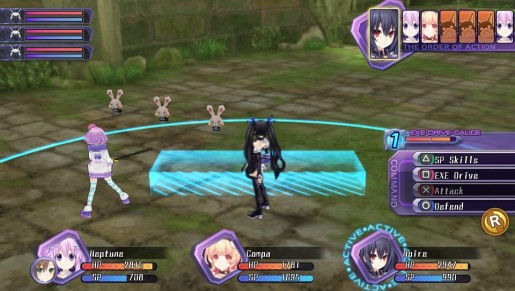 As with Neptunia mk2 and Victory, enemies will be on the map and you can choose to engage them by walking into them or swinging your weapon at them to initiate a preemptive strike or symbol attack. However, if you miss the attack or they touch you from behind, then it will be a surprise attack where your enemy gets to attack first. Upon entering combat is where things get interesting. Like most RPGs, Re;Birth 1 is turn based and you can move anywhere within a 360 degree area to attack your enemies. Every character will have an attack area indicated by a box, which comes in different sizes and shapes depending on which weapon or attack you decide to use. From here the basic idea it to line up your attack as best as possible and ideally hit multiple targets. From here you can use a basic attack, special attack or an EXE drive (charged super attack) and in some cases turn on your HDD (transform), though you can dominate your average fight by pushing X and then a random string of inputs. One nice thing is that you can customize your basic attacks with a number of different skills/attacks you unlock from leveling, but I found little need to do so beyond using stronger attacks.
Once you defeat your enemy, you'll receive some cash, experience and various drops that can be used with the new plan system. Contrary to its name, the plan system is fairly similar to Disgaea's cheat shop and allows you to enable or disable various elements of the game. Most of them are insignificant things like stronger enemies or new items in a dungeon, adding new items to the shop and increasing or decreasing the difficulty, whereas others change the gameplay mechanics. Regardless of how nice that sounds, the mechanic ones could be better.
The first feature you can enable is destroy symbol, which will simply destroy an enemy if you perform a symbol attack and the enemy is deemed too weak. The only problem is destroying an enemy this way simply voids the fight and is no different than avoiding the fight in the first place. Other plans work off similar concepts, with their value coming from design choices. One of the more useful plans is 100% Escape, simply because I've found the chance of escape being around 10%. This makes an option that can really enhance the game, feel a lot more like you're enabling or disabling cheat codes.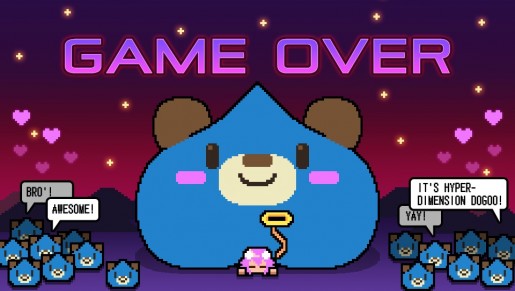 Come the end of the day, Neptunia Re;Birth 1 is everything you could hope for in a remake. Instead of a few token features here and some extra content there, Re;Birth 1 is a total departure from the original, essentially making the original obsolete. Sure there is some room for improvement, such as adding more complex enemies or making the plan mode more useful, but overall the developers accomplished what they set out to accomplish, an enhanced version of the original game that fans and newcomers alike could enjoy.
Hyperdimension Neptunia Re;Birth1 Review

,