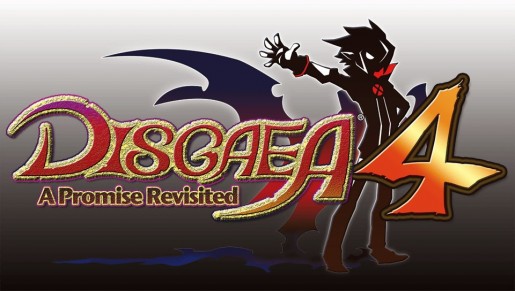 Back when Disgaea 4 originally released, it was a big change for the series. Not only was it the first Disgaea title with HD sprites, it also expanded upon the magichange system, implemented the punishment system and finally incorporated online elements to the series. Years later it is finally available on the PlayStation Vita and with it are new characters/scenarios, various changes and all the previously released DLC. With so many upgrades, is Disgaea 4: A Promise Revisited a must have for every Vita owner or is it a watered down port that should have never happened?
As you might have guessed, Disgaea 4: A Promise Revisited is exactly what you would expect from the series. The story follows Valvatorez, who was once a feared tyrant, but is now a lowly Prinny Instructor, on his quest to keep his promise to some Prinnies that were mysteriously taken by a black hole. Naturally this quest turns out to be part of some grand scheme, which you must ultimately stop.
While the story isn't anything special, the real selling point are the characters. Keeping with tradition, Valvatorez has a number of quirks that appear throughout the story, such as his love of sardines or taking promises way too seriously. With him is Fuka, who is in denial about her death and chooses to instead believe she's in a dream, a monster called Desco the "ultimate weapon" that's obsessed with being a "final boss," among other more serious characters. This gives the game its trademark goofiness and also helps make it quite memorable, even if the story is forgettable.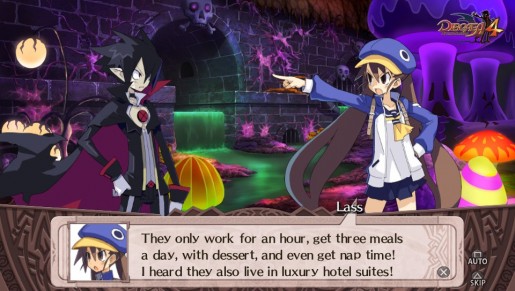 Speaking of trademark elements, the gameplay is as addictive as ever. Similar to Final Fantasy Tactics, Disgaea is a tactical RPG where you fight various enemies on a grid. Every character can move a finite number of spaces, with different characters/classes having unique abilities that will come in handy during a given situation. These include things like using the archer to hit things at range, healing with the cleric, stealing with the thief and many more. While this all sounds rather basic on paper, it's actually more tactical than you might think.
A lot of this is thanks to geo symbols, which offer various bonuses or penalties for being on squares of a corresponding color. These include things like bonus experience, causing damage to your character and warping to random squares. Depending on what you're trying to accomplish, it might be in your best interest to move the geo to a different color or simply destroy it for bonus points/additional damage.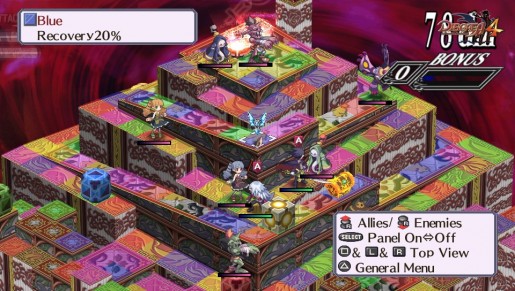 As crazy as it might sound, this is just the tip of the iceberg. Beyond this there are special skills that you can level, the ability to teach people specific skills, a number of classes, multiple weapons with their own advantages and disadvantages, various tiers of rarity, item world where you can level items/increase stats and much more to do. Despite this sounding overwhelming, mostly because it can be, Disgaea 4: A Promise Revisited does a good job slowly easing you into the process. This can be slow if you're a veteran of the series, but newcomers will enjoy the gradual implementation of all these elements.
If the amount of depth didn't overwhelm you, then all of the content included in Disgaea 4: A Promise Revisited just might. Not only does it have all of the DLC from the PlayStation 3 version, including the Fuka and Desco side story, survival mode and memorable characters like Adell, NISA (Neptunia), Pirohiko Ichimonji (Zettai Hero Project), Prism Red, but it also includes new content not found in the original game.
The highlight of the new content is an additional scenario between Artina and Valvatorez, which fills some of the games backstory. If that's not enough, a new character named Nagi Clockwork was also added, along with the ability to recruit Rutile and Stella if you have a Disgaea 3: Absence of Detention save file. All of this, plus the rather robust amount of content found in the original game, offers well over a hundred hours of gameplay. Especially if you want to see all the new content, such as the new top tier weapons or Peta tier spells.
Disgaea 4: A Promise Revisited Review

,