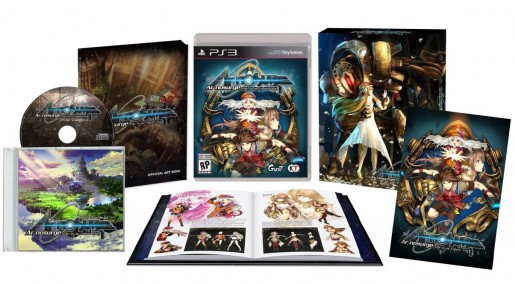 NIS America has recently announced their plans to bring the special edition for Ar nosurge: Ode to an Unborn Star to North American audiences. While Tecmo Koei is handling the localization and publishing duties for Ar nosurge, NIS America will be using their web store to exclusively handle the collector's edition.
Ar nosurge: Ode to an Unborn Star will be the second title in the series after 2012's Ciel nosurge. Tecmo Koei has confirmed that dual-audio will be available at release. The collector's edition for Ar nosurge will include the follow items for $64.99:
Limited Edition Includes:
• Ar nosurge: Ode to an Unborn Star for PS3™
• Full color, 36 page hardcover art book
• Original soundtrack with jewel case
• Ar nosurge poster (16″x23″)
• Collector's box
Ar nosurge is available exclusively from NIS America's webstore here for $64.99 in North America, shipping the same day as the regular edition on September 23rd. Currently, more than 75% of stock is still available although precise numbers are not available at this time.