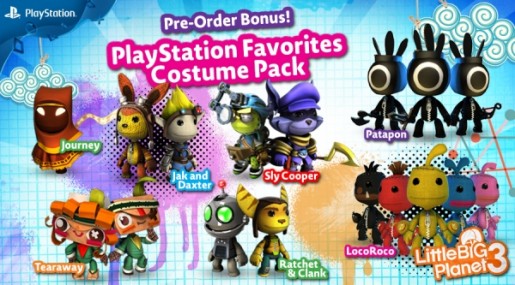 Fans of the hit LittleBigPlanet series can look forward to LittleBigPlanet 3 arriving this November in North America.
With LittleBigPlanet 3 launching this November 18th in North America, gamers can go ahead and pre-order the game. By pre-ordering it at participating game retailers, gamers will earn bonuses that they can use in-game like costumes. In addition to costumes, gamers will receiving a Sackboy plush at no additional charge (check your participating retail stores).
Along with the bonuses announced, all pre-orders will include a Dragon Age costume pack, as well as a "4 the Players Costume Pack" that includes costumes based off inFamous: Second Son's Deslin Rowe, Ellie of the Last of Us, Nathan Drake of Uncharted, and the Helghast of Killzone.
Finally, several game retailers will have their own exclusive costume pack DLC included with the PS4 pre-orders:
GameStop – Mythical Creatures Costume Pack
Best Buy – Hidden Creatures Costume Pack
Amazon – PlayStation Favorites Costume Pack
PlayStation Store – T-Shirt Pack
LittleBigPlanet 3 will be available for both the PS3 and PS4 this November 14th. Check out our review near the release date.