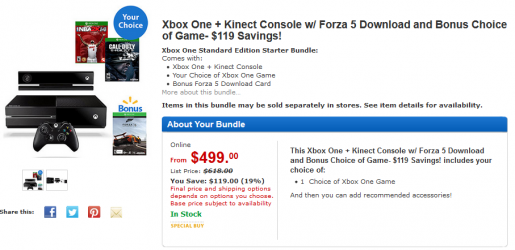 While Microsoft has announced a cheaper Xbox One SKU coming next month, with the removal of the Kinect from the bundle, Walmart decided to go ahead and put a quality bundle out there for gamers ahead of that.
For only $500, you can get the Xbox One console with Kinect, digital Forza 5, and your choice amongst 17 Xbox One games. These games include launch titles like Call of Duty: Ghosts and such, but also more recent games like Titanfall, Thief, and Metal Gear Solid V: Ground Zeroes. The included Forza 5 was already something coming bundled in with the basic $500 model, but with another game added in, you really can't go wrong compared to the upcoming $400 model without a Kinect or any games.
There is no indication on how long this sale will last, so make sure to get your orders in soon if you are interested. You can do so right here on the Walmart website.