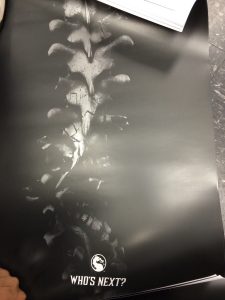 UPDATE:It seems Ed Boon has updated his twitter profile to reflect the tagline and icon seen in the poster. I guess we can call this confirmed?
In the week full of leaks, it seems Warner Brothers Interactive is having some of their own.
We all know that Ed Boon has been teasing Mortal Kombat 10 but it seems this random leak of a poster we found on the internet might be a confirmation of something. Hopefully, it is a next-gen only Mortal Kombat or it could be a poster for a movie? Who knows but I am sure we will hear more at E3.
Our Take: It looks like it could be very real (note someones hand at the bottom left). It should be taken with a little salt though. The poster looks cool and teaser-like so possibly posters that will be given out at E3 or an upcoming event like San Diego Comic Con.
Source: Reddit