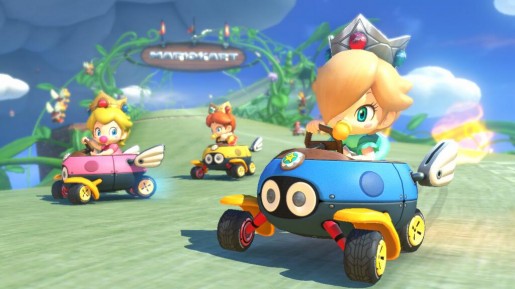 While Mario Kart 8 boasts the largest roster in the series' history with 30 characters, one of the only knocks on the game is the list of playable characters. There are of course the staples you have to have, such as Mario, Luigi, Peach, and Donkey Kong. Adding the Koopalings to the lineup was good to see, but in the process characters like Bowser Jr., Dry Bones, Diddy Kong, Birdo, and King Boo were cut from the last console version of the game. It's excusable for the 3DS version to cut some characters, but we lost some of the more unique characters from the roster. Rosalina is my favorite to use in the game, but Baby Rosalina now brings the total number of babies in the game to five. Pink Gold Peach is the one that really left me dumbfounded however, as another character could have easily taken her place as a heavy character on the roster.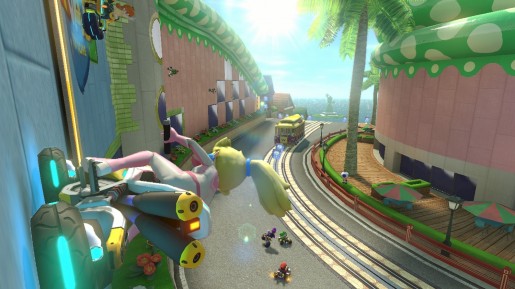 If you've played a Mario Kart game in the past, you pretty much know what to expect with the game modes. There are both single player and multiplayer options, with Grand Prix the one most played as a rule. Within this mode, you have the eight aforementioned cups, each with the three base difficulty types, 50cc, 100cc, and 150cc, as well as the unlockable Mirror Mode later. 50cc is a good way to start if you are looking to just unlock characters, as it should bring you quite easy 1st place trophies. The higher levels are definitely more difficult and you will truly have the master each map to succeed in the 150cc races.
Mario Kart 8 does provide a good number of unlockables between characters, kart pieces, stamps, and Mirror Mode. Characters are unlocked pretty much at random each time you get first place in a cup for the first time on that specific difficulty level. I kind of wish they were tied individually to a specific cup so you could unlock your favorite character first, as Rosalina was one of the last ones I was able to unlock, but that is really just nitpicking. Kart pieces are unlocked by collecting coins in each race, so you will constantly be getting new karts, wheels, and gliders for each 50 coins collected, which later becomes every 100 coins collected.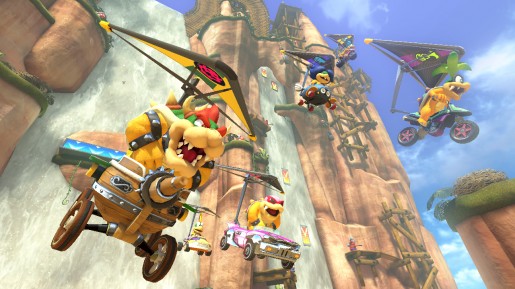 As with past entries in the series, Time Trials have also returned this time around, with the ability to race against ghosts online. You can even upload your own ghosts to Miiverse as well. Battle Mode also makes its return, but is really the only lackluster feature found in the game. In past games, Battle Mode stages were made specifically for Battle Mode and were crafted to perfectly fit that game type. However, this time we just get a group of the regular tracks retrofitted for Battle Mode. The game mode can be fun, but just leaves a little something to be desired compared to past variations of it.
Just like Mario Kart Wii, Mario Kart 8 brings us online play on a Nintendo console once again, this time with an even more sound infrastructure. You have the option to play random people worldwide or regionally in a quick match scenario, while you also can race against friends. Thanks to the introduction of the Nintendo Network ID, this is much easier than it has ever been in the past. For a game that is built for local multiplayer, the inclusion of multiplayer is just gravy.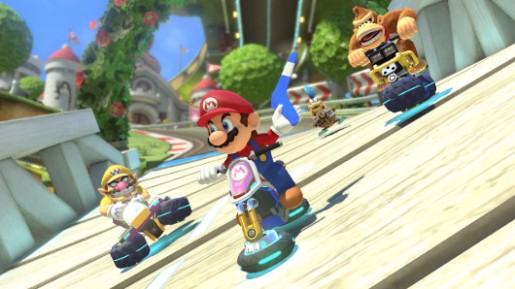 The Mario Kart series has always been known for its wide range of music accompanying the various tracks and Mario Kart 8 is no different. The soundtrack enhances what is already a fantastic game by not only playing over the tracks, but being affected by what is going on in the race itself. My two favorite stages Electrodrome and Twisted Mansion are perfect examples of this, where the music sets the mood across different parts of the track. With a combination of classic and new tracks, this is one soundtrack that I know I'd love to have on my iTunes playlist.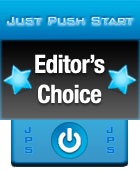 To really no one's surprise, Mario Kart 8 returns to the track with another spectacular outing. In a series known for its quality, this very well may be the best we've ever seen it. With arguably the most creative and unique track designs in the series and the introduction of zero-gravity racing, Nintendo is once again on top of its game with Mario Kart 8. A few minor missteps with the roster and Battle Mode are really about the only things keeping this from being a perfect game. While we really don't know how much it will affect the Wii U's sales, with the quality and appeal of this game, Mario Kart 8 truly does deserve to be a gamechanger for the Wii U and Nintendo.
[Editor's Note:Mario Kart 8 was reviewed on the Wii U. The game was provided to us by the publisher for review purposes.]
Mario Kart 8 Review

,