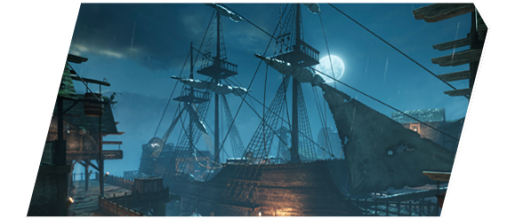 Call of Duty: Ghosts launched last November for a number of platforms and has since had two rounds of DLC released for the game. We knew another batch was coming titled Invasion, but now we've gotten our first glimpse at three new maps thanks to leaks from some foreign versions of the official Call of Duty: Ghosts website.
The France, Germany, Espana, and Canada France variations of the official Call of Duty: Ghosts website posted the three images below before removing them rather quickly. The three maps, known as Departed, Mutiny, and Pharaoh, look to revolve around the Dia de los Muertos celebration, some sort of ship, and Egyptian ruins respectively.
With this leak occurring, an official announcement is likely imminent. The question is whether or not they choose to wait until E3 to unveil this latest map pack or not.