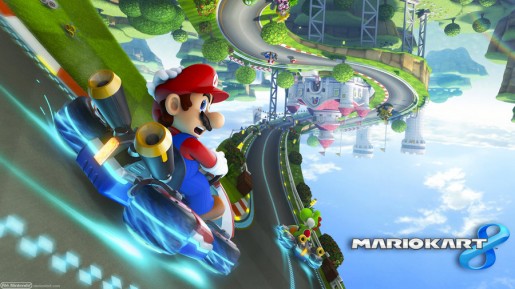 When someone thinks of Nintendo, one of the first things that pops into their head is more than likely going to be Mario. The Italian plumber helped to define the Nintendo Entertainment System and has had more spinoffs than you can can probably count off the top of your head. The most successful of those spinoffs by far is the Mario Kart series, which first debuted on the Super Nintendo in 1992 with Super Mario Kart. Since that release, every single mainline console or handheld, besides the Virtual Boy and Game Boy Color, has gotten its own entry in the series, with not one getting more than that one game. The Wii U has certainly had its struggles since launch and Nintendo is really hoping that the latest entry in the series, Mario Kart 8, is just the game to try and turn things around for Nintendo's latest console.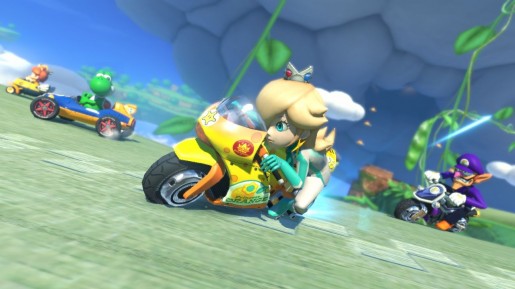 As soon as Mario Kart 8 was officially unveiled at E3 2013, the wait was on until we could finally get our hands on the game. Nearly a year later, the game is finally here and it looks as gorgeous as it ever has. There are always the discussions about how the Wii U can not match up to Microsoft and Sony's new systems, but Nintendo has managed to still amaze with its first party outings over the last few months. Super Mario 3D World and Donkey Kong Country: Tropical Freeze both wowed us graphically and Mario Kart 8 takes it even further.
Running at 60fps on single player, every single track can easily wow you at one point or another, especially those with a night setting that are complimented by the additions of color from carts and markers on the track. I will admit that I did run into the side of the track a few times just because I was sightseeing my surroundings, especially when playing tracks for the first time.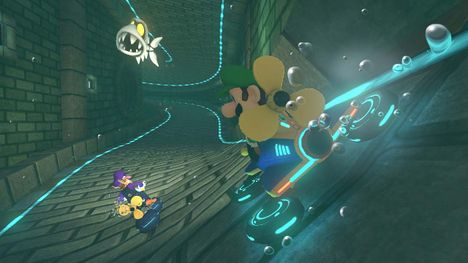 Speaking of the tracks, the level of creativity found in most of these tracks are pretty astounding. There are 16 brand new tracks in the game, as well as 16 remakes of classic tracks from throughout the history of the series, which combined make up eight different Cups. There are so many memorable tracks that naming my favorite track is so hard since it changes almost every day. If I had to name two right now, they'd probably have to be Twisted Mansion and Electrodrome, but there are so many other standouts among the crowd. Even the remakes do not have a dull track in the mix, with Moo Moo Meadows probably being the most similar to its original.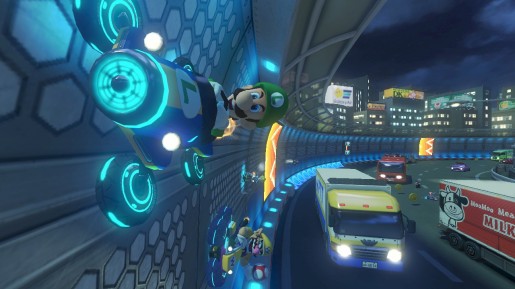 The central addition to Mario Kart 8 is what is known as "zero-gravity racing." At certain points of most every track, you will pass by a blue barrier that flips your wheels and turns your vehicle into basically a hovercraft. This allows you to drive on the walls and ceilings as the levels start to get twisted. Of course the brand new tracks utilize this new technology, but a good number of the classic track remakes add it in as well. Seeing HD remakes of some classic stages like Super Mario Kart's Donut Plains 3 and Mario Kart 64's Rainbow Road was good enough, but I especially liked getting a chance to see one of my favorite stages from Mario Kart 7, Music Park, on the console version.
Zero-gravity racing also allows for some alternate pathways in some stage, which gives you some choices to make. In a stage like Toad's Turnpike, there are sections where you can get on the left or right side walls and get a few boosts along the way. However, if you miss the jump boost at the end, you are slowed down a bit and may lose a little ground as a result. Each level will likely have to be played multiple times for you to learn the best pathways, which adds a lot of replayability to the game.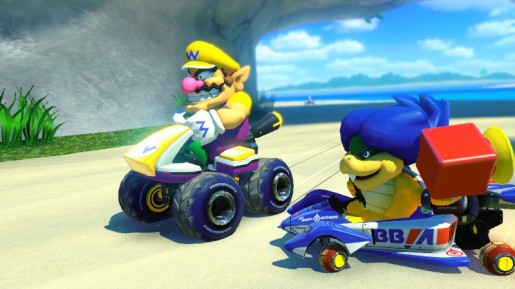 One of the key elements of Mario Kart since the very beginning has been the ability to pick up item boxes and use the acquired items against your enemies. Mario Kart 8 brings back plenty of the staples like the Mushroom, Lightning Bolt, and the three Shells. However, Nintendo did not stop there by also including some new items to the mix like the Piranha Plant, Boomerang, Crazy 8, and Super Horn. The Piranha Plant is one of the best in the game by not only allowing you to attack your opponents, but also giving you a boost when you are not around anyone else. The infamous Blue Shell has finally met its match with the new Super Horn as well. Previously nothing could stop the Blue Shell from trying to knock you out of first place, but with the Super Horn you can destroy it before it makes impact.
Mario Kart 8 Review

,