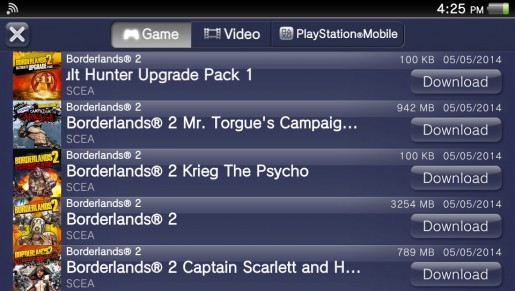 Gamers who will be picking up the new PlayStation Slim tomorrow that comes with a digital copy of Borderlands 2, the 8GB memory card that comes with the bundle is sufficient enough to download the game.
The Borderlands 2 digital download version will require at least 5GB of memory space where all of the promised DLC will be included. The base game requires at least 3.2GB while the two DLCs: Captain Scarlett is at 700MB and Mr. Torgue's DLC is at 941MB. All in all, if you are thinking of adding more games in that 8GB memory card along with Borderlands 2, you might have to buy the 16GB or even 32GB just to be on the safe side.
Borderlands 2 will be released on May 13th for hose who just want to buy the game without the PS Vita. Those who will pick up the PS Vita bundle tomorrow will get the game along with it.
Check back with us later this week for our review of Borderlands 2 and see how it performs on the PS Vita.