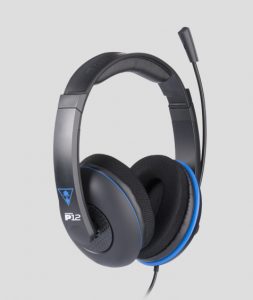 Turtle Beach is one of the most well known games in gaming headsets and they are certainly not looking to drop from the spotlight with constant headset releases. With PAX East starting, Turtle Beach has unveiled a brand new headset at the event known as the P12 Amplified Stereo Gaming Headset for PlayStation 4 and PS Vita.
This new headset will launch on July 10 for only $59.99, so it is definitely one of their cheaper offerings for those looking for a new headset that can be used easily through USB. The 50mm speakers in the P12 provide a crisp listening experience, whether turned up really high or down low.
Due to differences between the PlayStation 4 and PlayStation, the P12 gaming headset includes louder amplified stereo sound, as well as Adjustable Bass Boost and Microphone Monitor. Like with many other Turtle Beach headsets, an inline amplifier is included to allow you to access volume control, Base Boost and microphone mute very easily.
Turtle Beach's exclusive Captain America: The Winter Soldier Marvel Seven Headset online exclusive is also available for sale right now as part of a limited run of only 100 headsets. With fewer than 80 left, this is one not to miss out on before they run out.