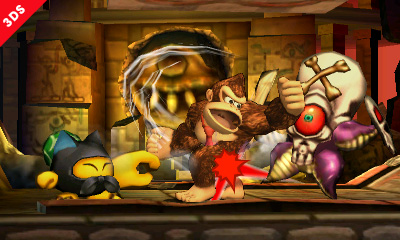 During last week's Nintendo Direct, we learned that the Nintendo 3DS version of the upcoming Super Smash Bros. would include a handheld exclusive mode known as Smash Run. In this mode, you will compete against three others as you beat up on random enemies throughout the giant stage, which will give you plenty of power-ups that you will put to use in the showdown with your other three competitors at the end.
In today's update from Masahiro Sakurai, we learned how the enemies you face off against in the mode will actually have special abilities and won't just be useless fodder to take down.
Pic of the day. Tac (on the left) steals your charged power. If you've charged up a lot, he might steal a ton of it. Chase after him quickly to get it back!!
I'm intrigued to see what abilities we may see from other enemies as well, as long as they have fairly unique movesets from one another.