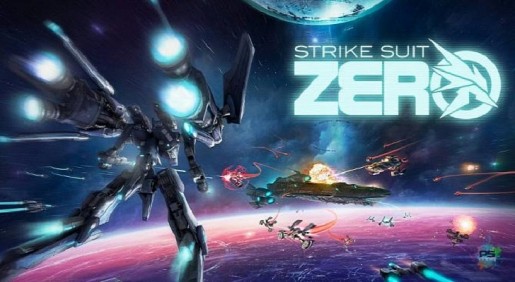 Strike Suit Zero was released last year on the PC and it was met with a mixed reception. Hoping to make the game better, the game now has a "Director's Cut" edition that has debuted for the Xbox One and PS4. This version includes the extra "Heroes of the Fleet" DLC plus promises to be a better experience overall. With that being said, is game a flying good time or is it better left dying in the hangar?
Space flight combat games are rare these days so it's nice that Strike Suit Zero: Director's Cut comes in to try and diversify the choice for Xbox One and PS4 gamers. After all, the game only came to life thanks to its successful Kickstarter campaign. If you are a fan of games like Nintendo's old Star Wars Rogue Squadron, chances are you are going to like the Star Wars-like battles that ensue in Strike Suit Zero.
The game is set in the far future in the year 2299 where you control a pilot named Adam. He is part of a war between Earth and other space colonists. Basically, Adam's goal is to eliminate the invading enemy forces to keep Earth the way it is. The story is not told very well because most of the story's progression is only told via dialogue, but it's a unique setting because Adam is only a small part of the war. It's not the cliche story where you control the one person that saves everyone.
I have to admit; the first time I played the game I was overwhelmed on how to fly. It's been a long time since I played a space flight combat game before and it took me several minutes to get used to the game's mechanics and physics. The last time I played a similar game was the space battle portions of Star Wars: Battlefront II. Flying the ships is okay, but it's chasing down enemies that can get hard at first.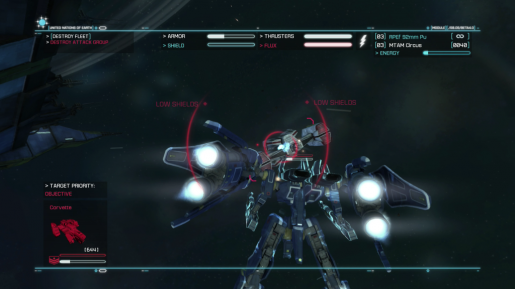 The controls themselves in Strike Suit Zero: Director's Cut is well thought out once you get a hang of them. You fly your ship using the left analog stick while you can somewhat aim down your sights with the right analog stick. You can shoot missiles with the RB button and the right trigger is for you standard plasma rifle. The X button is used to lock-on to the nearest target. The only thing that annoyed me is that there's no button to execute a barrel roll. If you want to do that, you have to do it yourself manually. You can only dodge incoming missile by pressing the Y button to chuck out an EMP pulse. This is pretty cool, but not as fun as executing a barrel roll.
Shooting enemies with the plasma rifle can be quite hard because they fly around at such a fast pace you don't have a good chance to him them. Thankfully, the missiles you have are accurate because they lock-on to enemy ships and have a very successful hit-rate. Although missiles are not infinite so be warned if you rely on them too much. The game doesn't allow you to replenish ammo during any of the levels which can be quite a pain. Even if you die and restart from a checkpoint, you ammo stays the same. This can become frustrating if you need some missiles urgently, because the levels are not easy nor are they very short either.
Strike Suit Zero: Director's Cut Review

,