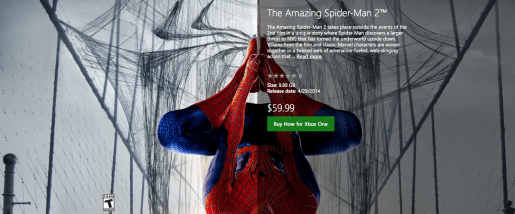 Even though it was thought the Xbox One version of The Amazing Spider-Man 2 got delayed, it is available now on Xbox LIVE.
If you own an Xbox One and live in North America, The Amazing Spider-Man 2 video game is available to purchase on Xbox LIVE right now. It will cost you $59.99 and has a file size of just 9.89GB.
It's possible only the retail Xbox One copies of The Amazing Spider-Man 2 were delayed. They still have a release date of July 1st at this stage. We shall have more information on this when it comes.
Hardcore Gamer managed to get the game running so it's not a glitch with Xbox LIVE or anything like that.