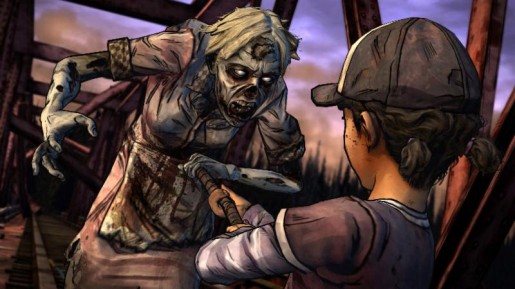 Just last week, we brought you our review for what we thought was one of the best episodes of The Walking Dead game so far. Yesterday, we told you about the player choices for the first episode that released a couple months ago, so now it is time for the player choice from the second episode of the season titled A House Divided.
Before reading further, be forewarned that there are major spoilers ahead, even moreso than Episode 1. For the purposes of this, we played on the Xbox 360 version of the game, but there wasn't any need for multiple playthroughs as there were no changes in the choices like with The Wolf Among Us. Having just released last week, the percentages may be pretty fluid, but these are the current stats. Without further ado, here are the player choices for The Walking Dead: Season 2 – Episode 2: A House Divided.
-Took blame for Sarah's photo? (Friendship)
You and 57.3% of players blamed someone else.

-Who did you sit with at dinner? (Loyalty)
You and 65.8% of players sat with Kenny.

-Told Walter the truth about Matthew? (Honesty)
You and 73.1% of players told Walter the truth.

-Nick's fate? (Forgiveness)
You and 86.3% of players convinced Walter to forgive Nick.

-Left to find Kenny? (Bravery)
You and 55.3% of player sought Kenny's help.
For those that have have not seen it, feel free to read our review of Episode 2 with the given link.