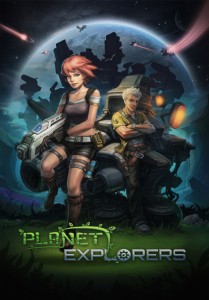 Kickstarter game, Planet Explorers is now available on Steam for people who pre-ordered.
For backers that backed the game during the Kickstarter period, developer's Pathea Games have sent out Steam keys for their alpha version 0.75, via email. So if you are one of those people, check your email account that is associated with your Kickstarter; also make sure you check your spam mail as there have been a few cases where the emails have been moved there.
Planet Explorers is an open world voxel based sandbox adventure RPG game set on a distant planet. The game uses a new OpenCL system based on the Unity 3D engine to allow players to change the terrain in anyway, create new objects in any form, and do it anywhere. Players can customize their character, combine and create weapons, vehicles, and buildings. At the same time, players will have to defeat multitudes of enemies of varying intelligence and defend the remnants of the colonists. There will also be a mission system that features NPCs giving the player goals to achieve to advance the storyline. The game will feature a single player story line as well as random single and multiplayer adventure maps.