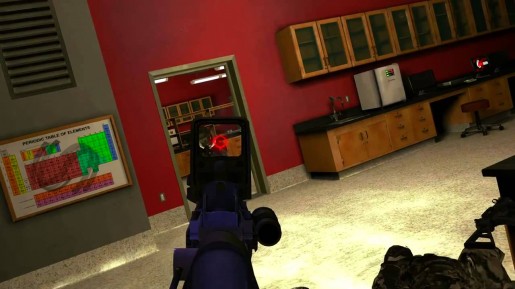 Another issue I had with the game is that you cannot really order your squad members around where you really want them to go. They just huddle up behind you all of the time. You can tell them to stay in one position, but that's about it. It would have been better if you could order specific members of the squad to different areas of the level. No, you cannot do that. To make matters worse, the A.I. members of your team are useless and they get killed anyway.
The game would have been easier to play if you could revive your teammates and vice-versa. The Rainbow Six games allow you to revive members of your team and there are checkpoints that help you out during missions too. Here in this game, you only have one shot to do your mission as everything has to be perfect. Dying once pretty much means it's game over. If you are playing in single player mode, you can switch to another teammate if you die. Even then, I found the game hard because you need more than one person to defeat all of the enemies in a level.
The A.I. in Takedown: Red Sabre is inconsistent because it's either very smart of super dumb. Some enemies are really hard to kill because they hard under cover and can shoot you from afar. This made the game hard to play at times because they can see you from a huge distance, but rarely you can see them. Other times, enemies can be really dumb and won't see you even though you are literally staring in front of them. I remember going into a corridor and seeing a bad guy standing nearby. He just stood there like an idiot not knowing I was right there standing in front of him. I just slowly pointed my pistol to his head and capped him. In closing, I have never played a game that has A.I. this inconsistent before.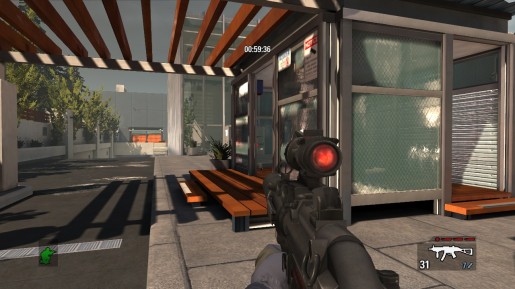 Graphically, Takedown: Red Sabre isn't bad, but not great either. The graphics are bland and lack much detail at all. The levels are pretty cool looking, although there are only five of them to choose. The audio is pretty rubbish in this game too. I don't know why, but the audio is set at a pretty low volume. I had to adjust my TV volume pretty high just to hear the game on a normal volume setting.
There isn't many modes that you can play in this game either. You can play the game by yourself and there is a co-op mode included too. The co-op mode is online only so there's no splitscreen option. The co-op mode wasn't much better anyway because my teammates were bad at the game as I was. Like I said before, the game's difficulty makes it hard for anyone to play. There is also a multiplayer deathmatch style mode too you can play. There's not much else I can say about the mode as it plays like any other online FPS game. The multiplayer mode too only includes five maps which is kind of stingy in my opinion.
Overall, Takedown: Red Sabre had good intentions at heart, but has been executed very poorly. Even if you are a veteran FPS gamer, you will struggle to even complete even one mission while playing this game. Its difficulty is what really makes this game unplayable and not worth your time or money. Not to mention other games such as Ghost Recon or Rainbow Six are far better alternatives that you should play if you're looking for a tactical shooter. If you are confident enough, you may find this game enjoyable if you manage to survive in one piece. If you are looking for a game that is "fun" than Takedown: Red Sabre not one you should play as it is anything but fun.
[Editor's Note: Takedown: Red Sabre was reviewed on the Xbox 360 platform. The game was provided to us by the publisher for review purposes.]
Takedown: Red Sabre (Xbox 360) Review

,