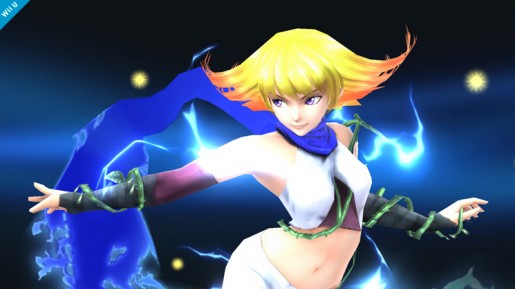 This week has been quite the roller coaster ride of updates for Super Smash Bros. with highs like the reveal of a new stage for the 3DS version, with multiple images, to the almost creepy image of Rosalina a few days ago. Due to some of the lacking updates of the week, many hoped Masahiro Sakurai would end the week with a bang, but instead he took the opportunity to troll the fans with the initial Miiverse image and update.
This Super Smash Bros. update started with the above image with a caption that seemed like a character reveal or at least an assist trophy.
Pic of the day. The most powerful commander of the Forces of Nature, Lightning Flash Phosphora!!
However, he then added in the comments a second image, which can be seen below, with the caption "…is a Trophy. The detail in her scarf is amazing." He was obviously toying with the fans, especially as it's a character from Kid Icarus: Uprising, which the rumored Palutena is from as well.