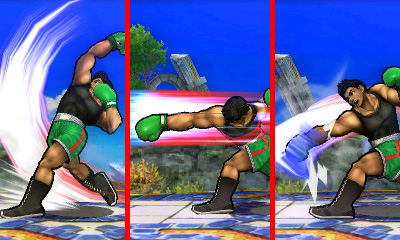 Last month we learned about the inclusion of Little Mac to the upcoming Super Smash Bros. for Wii U and Nintendo 3DS. We've seen plenty of his moves, but today's update gave us some new information that really helps to show how much more detailed the combat is this time around.
We know that everyone has their side smash attacks in the game, but Masahiro Sakurai has revealed that Little Mac has side smash attacks that change based on the way you follow through on them.
Pic of the day. Little Mac's side smash attack is his straight right punch…but it can transform into an uppercut if you tilt diagonally upward, or a body hook if you tilt diagonally downward. The body hook is the most devastating of these moves and it doesn't blast the opponents away.
This should certainly be interesting to see in battle when Super Smash Bros. releases sometime later this year.