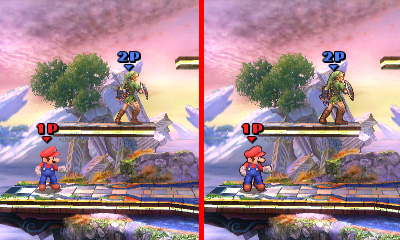 The upcoming Super Smash Bros. is coming to both the Wii U and Nintendo 3DS, with each somewhat being their own game. The Wii U version is of course the HD powerhouse we love to see, but the 3DS is instead going the route of using very unique art styles to set itself apart.
One of those styles is the use of black outlines around the characters to add a more animated aspect to the design. As a result, Masahiro Sakurai has used today's update to show a side by side comparison of the characters with black outlines in the 3DS version and one without.
Pic of the day. Here's a comparison of characters with and without their outlines on the 3DS version. They also give off a different impression in 3D, so customize the look however you like.
While this image shows off some of the difference in Super Smash Bros. for the 3DS, I have a feeling it's really going to have to be something to see in person to truly appreciate it, especially with the use of 3D.