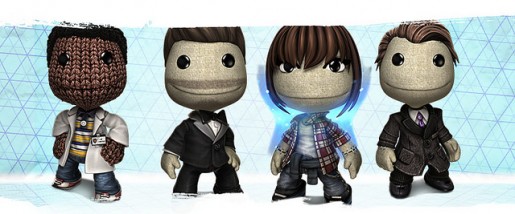 While many still await news of the next entry in the LittleBigPlanet series, the last entry in the series is still receiving DLC of its own. As a result, it has been announced that new DLC based around Beyond: Two Souls will be coming to LittleBigPlanet 2, LittleBigPlanet Karting, and LittleBigPlanet PS Vita this week.
The four new costumes are based on four characters from the game, including the two that are modeled after Ellen Page and Willem Dafoe.
Jodie Holmes Costume: Jodie Holmes Hair, Jodie Holmes Shirt, Jodie Holmes Vest, Jodie Holmes Tied Sweater, Jodie Holmes Jeans, Jodie Holmes Trainers, Jodie Holmes Glow.

Nathan Dawkins Costume: Nathan Dawkins Hair, Nathan Dawkins Coat, Nathan Dawkins Trousers, Nathan Dawkins Shoes.

Cole Freeman Costume: Cole Freeman Hair, Cole Freeman Lab Coat, Cole Freeman Jeans, Cole Freeman Trainers.

Ryan Clayton Costume: Ryan Clayton Skin, Ryan Clayton Hair, Ryan Clayton Dinner Jacket, Ryan Clayton Trousers and Shoes.
No price was given, but look for this latest DLC this week, perhaps even today.