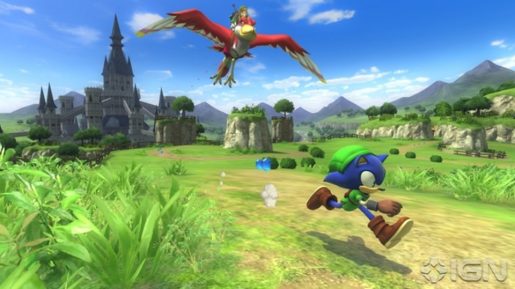 Sonic: Lost World debuted last Fall and after release we learned of some very intriguing Nintendo-themed DLC for the Nintendo exclusive. Just a little while back, we got the first of those Nintendo-themed DLC with one based on Yoshi's Island at no cost, and according to IGN, the other one we previously heard about based on The Legend of Zelda franchise is now available.
The brand new The Legend of Zelda Zone puts you right outside of Twilight Princess' Hyrule Town Castle in the iconic Hyrule Field. That is not all, as we can also see Link flying around on his Loftwing from Skyward Sword. And what Zelda themed stage wouldn't have Sonic dressed up in Link's signature tunic and cap?
Just like the previous DLC, you can download this at no cost from the Wii U eShop, starting today.