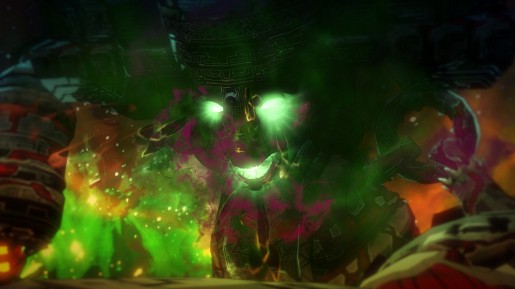 The release date is finally almost here for the spinoff of the mainline Ninja Gaiden series titled Yaiba: Ninja Gaiden Z. This time, we take control of the cybernetic Yaiba who is aiming to get revenge on his nemesis Ryu Hayabusa while having to fight hordes of zombie-like enemies. If you've played the Ninja Gaiden series at all, you will know the crazy kinds of bosses that you will come across and this one appears to be no different, based on the new batch of screenshots we received.
A majority of the screenshots focus on one specific multi-part boss battle that looks like it will be quite a doozy.
As Yaiba faces off against seemingly countless forms of the mysterious boss, he will have to engage every skill he has learned on his journey. With meteorites crashing around him, before he knows it, he'll be not only fighting in space, but in a temple reminiscent of an ancient America civilization. What does all of this mean?
Look for Yaiba: Ninja Gaiden Z this coming Tuesday, March 18 for PlayStation 3, Xbox 360, and PC. Check out the gallery of images for yourself below: