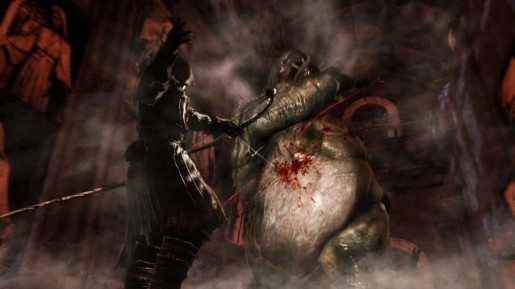 Following From Software's success of Dark Souls that was released two years ago, the company behind what's considered as the most challenging game ever created a sequel to further challenge fans. With the release of Dark Souls 2, fans who are seeking for more challenges can delve into the sequel as more enemies, new locations, and new lores await. Those who are hoping that the sequel will be much forgiving than the first, might as well prepare to die over and over again.
Dark Souls 2 follows the story of your own customized character who becomes "undead" and is now seeking for a cure. To get revert yourself back to the human form, you must venture through Drangleic Castle where the King holds the information of the cure. Just like its predecessor, the story starts off vague but as you go further through the game and meet the characters, the story and the lore behind Dark Souls 2 will become much more vivid and interesting. Fans who grew fond of the lore behind the first game, expect the your interest to be piqued again.
Comparing Dark Souls 2 to its predecessor, not a lot has changed in terms of its gameplay. The concept remains the same you are free to do whatever you want from the beginning. You can go anyplace and tackle any boss at any time. As for its combat, it's still the same. If there's one gripe that I have when tackling down enemies and bosses, that is the inconsistency of the lock-on. Sure, it's possible to lock your target, but prepare to be annoyed when there are more than two enemies and the lock-on target changes as you move. The inconsistency gets annoying when you are in a boss fight of more than two enemies and are in an enclosed space.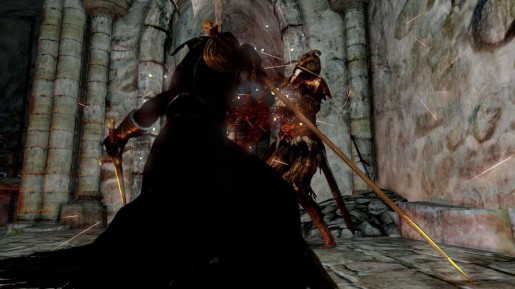 The difficulty in Dark Souls 2 hasn't changed. Those who found the first game to be hard and annoying, expect to feel the same way in Dark Souls 2 as the difficulty of the bosses and enemies that are within the Drangleic are tough and unforgiving. Just like in past Souls game, those who are brave enough and have patience to actually play the game will be rewarded with the sense of relief after taking down bosses and clearing an area. Dying in this game is normal and it's something fans should once again look forward to in this sequel.
One of the biggest changes in Dark Souls 2 that makes it very unforgiving is the penalty of dying, which is similar to Demon's Souls. If you are in a Hollow form and you die many times, your HP will drop up to 50%. The only way to put your health back to normal is to use an item called Human Effigy. Not only does your HP drop every time you die, but your hard earned souls will also be gone, just like the previous Souls game. Aside from dying continuously, there's also another way to get your HP drop and that's through killing the NPC in Majula. Pretty much if you want your HP to be at 100%, make sure that you don't die often and be good to the NPCs that you meet, otherwise punishment will be served.
For those who are hoping for more options in customizing their characters, they will be disappointed once again. Instead of allowing players to have the freedom to make their charactersto something they really want, they will be annoyed to see that the choices that they can choose from are so limited. While that may disappoint many fans, character models and textures have been improved over the first game. It's not a big improvement but the change is so apparent when you compare both games side-by-side.
Dark Souls 2 (PS3) Review

,