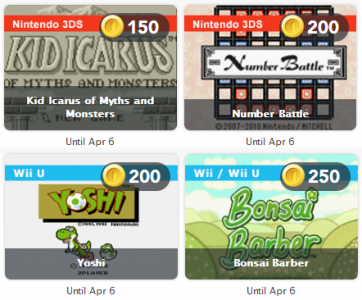 Awhile back, Club Nintendo added digital game downloads to their rewards for gamers that have a certain number of coins collecting from registering of Nintendo games and taking surveys. The types of choices have varied in that time, with some months being better than others. Last month provided some pretty solid titles but the new games that have been added this month leave something to be desired.
This month brings us two game options for the Nintendo 3DS with Kid Icarus: Of Myths And Monsters for 150 coins and Number Battle for 200 coins. The Wii U offers Yoshi for 200 coins, while you can also get Bonsai Barber for the Wii, that can be played through Wii Mode on the Wii U, for 250 coins. The big disappointment this month is that it seemed like the Wii U game options were following the 30 cent games from last year in order, but now skipped over Kirby's Adventure and Super Metroid.
These four digital game offerings will be available as redeemable rewards on Club Nintendo until April 6, when hopefully a better batch of games will go up.