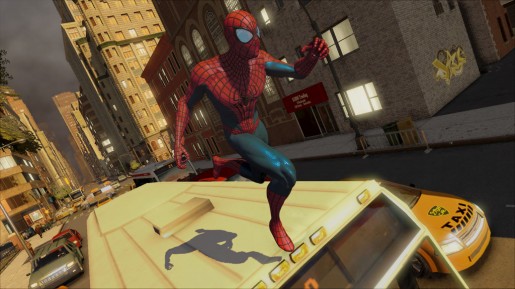 The Amazing Spider-Man 2 movie just keeps looking better and better with each trailer and that seems to be the same with each bit of information we receive about the tie-in game as well. The game based on the first movie was a lot of fun, but did certainly have some flaws. However, it appears that Beenox has worked hard to make one particular aspect of the game even better, web swinging.
Game Informer has revealed some specific details about the game's brand new web swinging mechanics, which sound very different but intriguing. Unlike past gamers where you would just use the right trigger to swing forward, you will have web swinging mapped to both your left and right triggers, with each controlling a separate hand of Peter Parker's respectively. If you stick with only the left trigger, you will start to move that direction, so you must alternate if you want to maintain a forward movement, which will also allow you to achieve maximum speeds.
Similar to Spider-Man: Web of Shadows, The Amazing Spider-Man 2 will also feature dialog options for you to choose from throughout the game. Some stealth based sections have also been added in, which were done well in Spider-Man: Shattered Dimensions, so we will have to see how they play out here.
Some brand new screenshots for the game have also been released that you can see below. Look for The Amazing Spider-Man 2 for Xbox One, PlayStation 4, Xbox 360, PlayStation 3, Wii U, PC, and Nintendo 3DS on April 29.