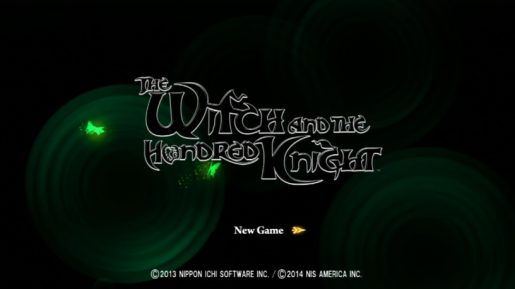 NIS America's latest RPG outing has seen its fair share of ups and downs, with development of The Witch and the Hundred Knight started back in mid-2010. While originally slated to be out some time ago, NIS America has spent the last couple of years adding polish to the release. The Witch and the Hundred Knight is one of the first true action RPGs from the studio, as it's more traditional than the pseudo rogue-like ClaDun titles.
The Witch and the Hundred Knight is centered around two characters, both of which are featured in the game's title to no ones' surprise. The witch, Metallia (Metallica in the Japanese release/dub) is a beautiful, yet socially stunted magic user that's trapped within the confines of her swamp. Wanting to defeat her rival and branch out her domain, she sends our her primary peon, the Hundred Knight, to spread out the green swamp so that she can venture out into the world. On the other hand, Hundred Knight is a mute yet impossibly powerful demon that is summoned to Metallia's bidding. As Metallia can't leave the swamp on her own volition, it's up to them to act out as her proxy and perform her bidding. The Hundred Knight isn't complete under her control, as he has the option to question or even ignore Metallia's commands during certain conversations, typically leading to some sort of amusing outcome.
There are a slew of other characters in The Witch and the Hundred Knight to aid or hinder your progress of covering the world in Metallia's swamp, most of which are the latter variety. Arlecchino's a loyal butler to Metallia, but much like Etna from the Disgaea series, is no stranger to snide comments that border on dissent. Visco, on the other hand, is a inquisitor-turned-canine girl that's honest to a fault despite staying at the witch's side, again similar to Flonne from the same series. Beyond that are a number of eccentric witches that all stand in the way of Metallia's plan of world domination.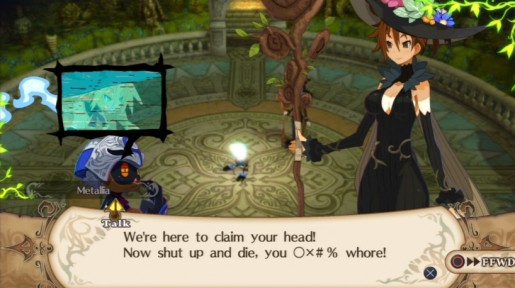 The Witch and the Hundred Knight is one of the darker tales that NIS America has told. Metallia is a woman that's been alone for nearly a hundred years with only a family butler and some summoned creatures to keep her company. Companionship and friendships are both foreign concepts to her, as she lashes out at anyone that tries to get close to her. Metallia is easily one of the more vulgar members in an NIS cast, especially with how vocal she can be with her thoughts. Many of her more heated moments are sprinkled with curses, only the more severe ones censored out for the audience.
There were times when the dialogue comes close to making me squeamish or uncomfortable at the very least. Without bringing up any spoilers, one of the few people that's been close to Metallia winds up being tortured and killed, even at Metallia's own hand. Despite the colorful characters in screen, there are frequently moments that illicit a greater feeling of shock than any of NIS' other titles, even moreso than the tale of Phantom Brave.
As an action RPG, The Witch and the Hundred Knight displays itself as competent, at the very least. The fundamental mechanics of a Diablo-style hack and slash game are present in the game's influence. What makes it unique is the ability to equip up to five weapons at a time, each usable in a combo string. Each weapon picked up is one of five weapon types (sword, staff, mace, spear, and lance) and features a die number 1-5. By chaining dies up in sequential order, 1-2-3-4-5 for example, subsequent attacks on a chain can be powered up to 2.0x the original damage potential, giving a little more strategy to deciding what random loot should be equipped.
The Witch And The Hundred Knight Review

,