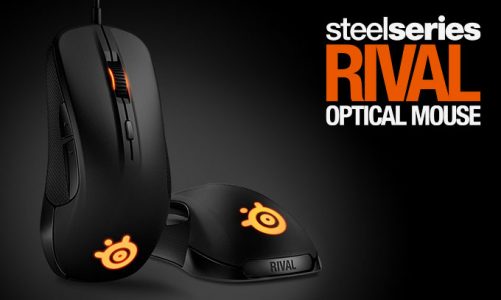 Gaming mice have seen increasingly complex designs over the years, with their abundance of buttons and extra features. However, not everyone needs 12 extra buttons spanning the entire side of their peripheral. SteelSeries is looking to bring back a more classic approach coupled with modifications to keep their product relevant and competitive in today's PC gaming environment. The company has designed a purely right-handed, mid-level optical gaming mouse aptly named Rival. This rubber-gripped, sizable gaming mouse comes packed with a solid set of features at an affordable price, but is it enough to fight off other similarly-priced contenders? Before we get started, let's go over a breakdown of the mouse's features and specifications.
Optical Sensor
– 50 to 6500 Adjustable CPI
– 1ms Response Rate / 1000Hz Polling Rate
– 200 Inches Per Second (IPS)
– 50Gs of Acceleration
Properties
– 6 Programmable Buttons
– 16.8M Color Illumination w. 2 Zones
– Soft-touch coating
– Injected rubber side grips
– Cable Texture: Soft Rubber Cable
SteelSeries Switches
– > 30 Million Click Durability
Size & Weight
– Weight: 128 grams (0.28 lbs)
– Height: 45 mm (1.8 in)
– Width: 70 mm (2.76 in)
– Length: 133 mm (5.23 in)
– Cable Length: 2m (6.5 ft.)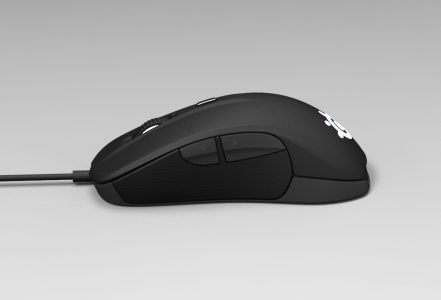 On the outside, the Rival sports a sleek, smooth, matte-finished appearance. Those who often find themselves concerned about smudging the glossy nature of plastic accessories can easily throw aside those worries with this coated, soft-touch rubber mouse. It is worth noting that the trade-off is a surface more susceptible to visible scratches. The design comes in a little larger than some of SteelSeries' other offerings, such as the Sensei. Larger hands will feel at home here thanks to the high rise in the mouse's arch that allows the palm to rest comfortably. A slight curve extends the mouse to the right, where one's pinky and ring finger can rest and remain stationary with ease due to the textured side grip. Two programmable buttons can be found on the left side of the mouse surrounded by a second textured rubber grip inlay. These inlays provide ultimate control over the mouse and allow precise maneuvering without fear of slipping. Flip the mouse over and four non-stick PTFE segments can be found that contribute to the Rival's smooth gliding, even if you don't have a mouse mat.
The aforementioned side buttons are two of four total programmable buttons, if you include the scroll wheel. The two buttons on the left side closely match the responsiveness of the primary mouse buttons. Another programmable button resides just under the wheel, although it is a bit small. By default, this button allows the speedy switch between two user-created profiles. Lastly, there's the scroll wheel, which feels a little too light for my liking but has a nice "bump" when rolled. This is all accented by two illuminated zones, the scroll wheel and Rival logo, that can have their colors customized. Taking customization a step further, a removable rubber nameplate can be found at the base of the mouse. The packaging comes with two nameplates, one that says "SteelSeries" and another that read "Rival". You aren't limited to these inserts, however. If a 3D printer has found its way into your home, you can download the design models from SteelSeries' website and create a more personal nameplate. It's an uncommon touch, but a welcome one for those that can take advantage of it.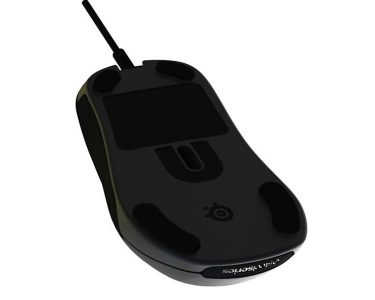 When it comes to performance, the Rival does not disappoint. With cursor speeds of 200 inches per second and an adjustable CPI up to 6500, split-second reactions transition quickly and smoothly between mouse to screen movement. The Rival was tested in a wide variety of environments and performed admirably in each. First up was DayZ. Anyone who's played this blood pumping zombie survival game knows that importance of precision during firefights. I was able to pinpoint targets and spin around as needed with ease. Next I tried out Cloudbuilt, a game composed of Sonic's speed, Mega Man's blasting and Mirror's Edge platforming. When you have to dash through disconnected platforms at breakneck speeds all while shooting enemies, precision is your best friend. Another pass for the Rival. Lastly, I took Hotline Miami for a spin. If you haven't guessed, the Rival's responsiveness made zipping in and out of rooms a buttery smooth delight.
Finally, we have to talk about the SteelSeries Engine 3. A marked improvement over version 2.0, this software allows for ultimate control over the inner workings of the Rival. The sensitivity profiles can be adjusted along with pointer acceleration/deceleration and angle snapping. The macro editor shines above all us, providing an in-depth and easy-to-use way to program the extra buttons. Key strokes and even mouse clicks can be recorded and applied to a button of your choosing. Whatever your gaming needs, this editor will allow you to put any action onto easily accessible buttons. On a less positive note, SteelSeries Engine 3 isn't currently compatible with all of your SteelSeries peripherals, which might require the running of both 2.0 and 3.0 at the same time to cover all owned accessories.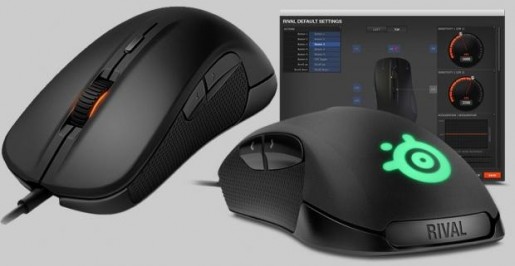 All in all, the Rival is a strong competitor in the mid-range gaming mouse market. Its sleek, smudge-resistance design coupled with extra buttons and textured grips rounds out this alluring accessory. The additional aesthetic customization options are also appealing, even if the likelihood of a mid-range mouse buyer owning a 3D printer to craft a custom nameplate is relatively low. Comfortability and performance are the biggest concerns for potential buyers and I'm here to say that the Rival excels in these areas. Whether you prefer to play competitive multiplayer shooters or faster-paced platformers, this mouse has you covered. With an MSRP of $59.99, the SteelSeries Rival serves as a formidable rival against Logitech and Razer's similarly priced gaming mice.
SteelSeries Rival Mouse Review

,