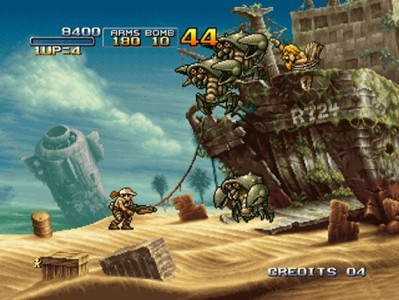 The Metal Slug franchise has been long known of the best co-op side scrolling shooters on the market, and gamers are getting a chance to relive the glory days with a re-release of Metal Slug 3 on Steam. SNK has announced that the game is coming this month to Steam, and you can pre-order it right now at a special discount.
For a limited time, you can pre-order Metal Slug 3 on Steam for 25% off of the normal price at only $5.99
-An "arcade-perfect" NEOGEO Port with Extra Features!
In addition to the traditional "ARCADE MODE", you can select any mission you have previously cleared and play them separately in "MISSION MODE". Here you can play your favorite stages at will and train on the missions you have not mastered yet. Moreover, the Autofire function allows you to fire your weapons continuously by holding down the Shot button. Enjoy every pixel of METAL SLUG 3 on Steam with your very own custom controls!
-Online Co-Op Play via "MULTIPLAYER MODE" with your Brother-In-Arms!*
Connect to Steam and accomplish missions with your friends far away via Online Co-Op Play.
*Multiplayer (Online) Mode is limited to 2P Co-Op gameplay via a Friend Invite on Steam.
Don't miss out on this pre-order sale and get your download locked down in advance!