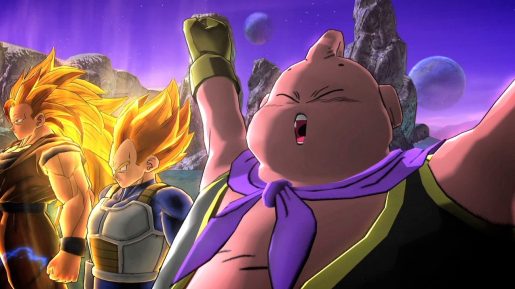 The game features a good variety of story content across 60 missions that mostly come from the show and movies themselves. There are mainline missions where you must use the good guys available at the time to fight the enemies across the Saiyan, Frieza, Android, and Buu Sagas. There are some oddities, such as having a team of four fight against Frieza in what is usually a one-on-one fight between Super Saiyan Goku and Final Form Frieza, but with the game's playstyle, there was little they could do there. The only thing is that the story is a little disjointed and leaves a lot out, so it might not make all that much sense to someone who hasn't watched the show or seen the story in a past game.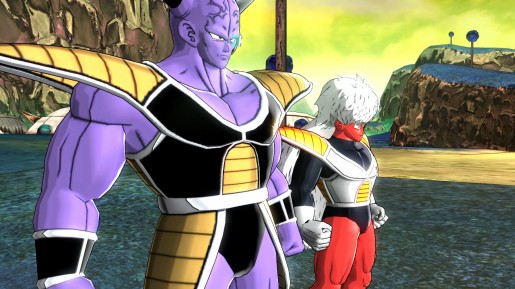 There are also missions where you use a team of the bad guys to face the Z fighters in essentially opposites of the other battles. Another Age battles are random non-canon battles against enemies such as most of the Ginyu Force or all four forms of Frieza at once. The Extra Age battles are based on side events like movies, where you face off against enemies such as Cooler. There is also a mission based on the new movie titled Dragon Ball Z: Battle of Gods that released last year in Japan, which introduces Beerus and Whis to a game for the first time. The boss fights against giant enemies like Giant Ape Vegeta and Hirudegarn are a lot of fun and mix up the levels up a good bit as well.
Just like with the missions, the character select features a good bit of variety as well. There are of course the staples that you know will be in like the various forms of Goku, Gohan, Vegeta, and Cell. Then there are some little surprises like the aforementioned Beerus and Whis, as well as little characters like Frieza Soldiers. The only disappointing thing I found with the characters is that there is no way to transform in-game, like most every other DBZ game in the past. However, this is mostly due to the different power levels and HP between different characters and their different forms.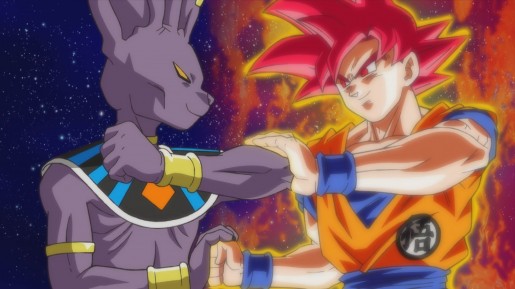 Moving to the more physical aspects of the game, Dragon Ball Z: Battle of Z looks great. It captures the feel of the anime in 3D form through the use of cel-shading, especially on the characters. The colors are very vibrant, which was always something that the anime shined in doing throughout, even in the darker periods of the show. The audio is also pretty solid throughout the game. It isn't anything standout, but it fits the mood of the game well enough. I will never get enough of "Cha-La Head-Cha-La," so I found myself watching the opening video multiple times as I turned on the game before even moving forward just to see the gorgeous opening video sequence with the song over it. .
While the combat is relatively simple to pick up and fun to use, the moving around the map is kind of a pain. With the frequency that you will either knock an opponent far away or get knocked away yourself, you will be chasing your enemies, and it is far from an easy task. I got very frustrated trying to catch up with an enemy that would run and constantly hit me with ki blasts knocking me back further, regardless of how much I try to dodge. The simple ki blasts should do damage, but not completely knock you back over and over. This also isn't helped by a very inconsistent camera that sometimes works perfectly at following your character, while other times getting completely lost behind walls and completely messing up the experience.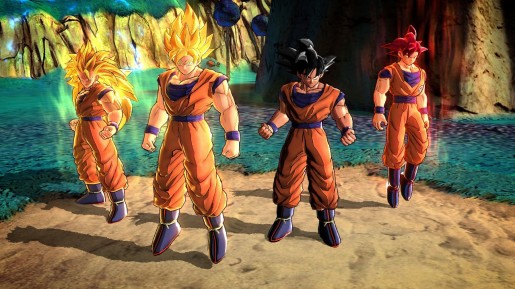 The game features three game types, the aforementioned single player full of missions, and then both Co-op Mode and Battle Mode. The latter two are both online only features, the first being where you team up to take on the different missions with others online, while the other has you facing off with another team of fighters online with the help of your own team of online players. The online play had minimal lag and was a pretty fun experience that is worth checking out. This game is definitely one that is better with friends, so it was disappointing that you couldn't do this with friends locally.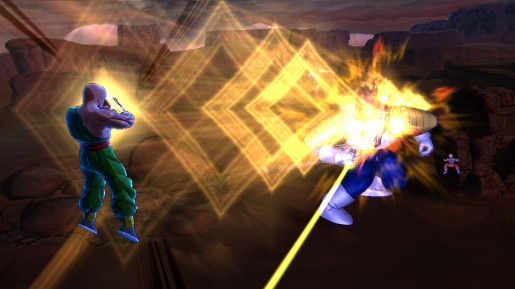 Dragon Ball Z: Battle of Z completely reshapes what we know a Dragon Ball Z game to be by switching from a one-on-one versus fighter to a four-on-four team based fighter. It does built a good foundation that has a lot of potential, but sadly a lot of elements greatly hold this one back from being a really good game. There are a number of characters to choose from, but a lot of them feel incomplete with only one melee button and very few having Ultimate Attacks to use. No local multiplayer is disappointing for those that love to play with their friends, but there is online play to make up for that. Overall this is a game that is at least worth checking out for Dragon Ball Z fans to get a different gaming experience than usual. However, due to a somewhat disjointed story, Dragon Ball Z: Battle of Z may not be the best game to start with for those new to Dragon Ball Z.
[Editor's Note: Dragon Ball Z: Battle of Z was reviewed on the PlayStation 3. The game was provided to us by the publisher for review purposes.]
Dragon Ball Z: Battle of Z Review

,