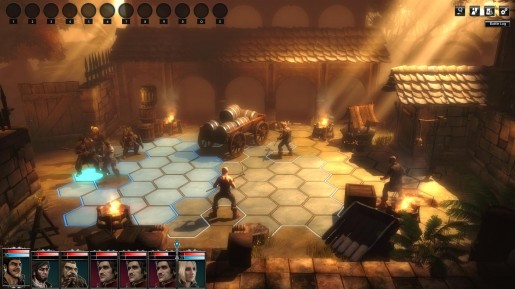 While 'The Dark Eye' rule set Blackguards draws upon shares many of the same tenets and themes of Dungeons and Dragons there are some subtle differences which are worth mentioning. The leveling system is the most obvious difference compared to a traditional tiered system; instead the experience you accrue, here called 'adventure points', are applied to skills and abilities directly to improve them at any time while out of combat. This system gives you a lot of freedom, much more than a new player will likely fully understand at first. While complexity is no bad thing in a game like this a larger tutorial on the skills system to guide newcomers would be a welcome addition.
Another mechanic that isn't quite the norm is the ability that the game gives you to choose how you want individuals to use their weapons. This is achieved with a slider between aggressive and defensive approaches, which affects the balance between damage potential and parry chance. The injury system also adds to the approach taken by most games, using a health point system but also a 'wounds' count; long-term injuries which damage the character's attributes. While potions and resting will restore a character's hit points wounds require the attention of a healer, the services of which can be found in most towns.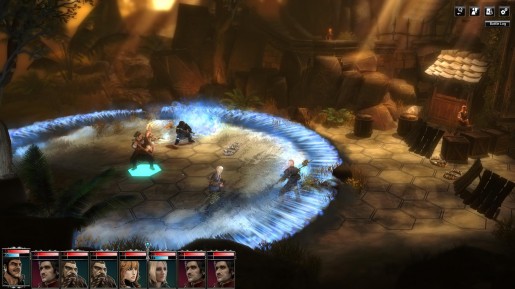 Each combat encounter in Blackguards is hand-crafted, which means that there are no random encounters to grind for more experience, which has the side effect of making a mistake in allocating your adventure points into skills a more permanent problem. A theme prevalent throughout the game are environmental hazards dotted around the maps, which can both help or hinder you. Common examples of such hazards are small streams to slip in or sucking mud which can trap characters, though more amusing are things like bee hives which the player can cause to fall onto the heads of their enemies also make an appearance.
While there are certainly a fair number of 'simple' encounters larger set-pieces appear often with a great variety and are generally both fun and challenging. That said, there are a few fights which feel a little too luck-based but those are rare and typically don't distract for too long. Looking across all the encounters in the game it is easy to say that the general quality is excellent, offering a challenging but rarely frustrating experience.
The combination of the challenging encounters and a substantial amount of depth and complexity in terms of character progression undoubtedly make for a difficult game, though there is an easy difficulty setting available should it become overwhelming. If you do find the game too tough however, I would recommend instead treating your first go at the first chapter or so as training, and then restart the story armed with what you've learned. Indeed, even if the difficulty did not perturb you, there is much to be said for a second play through after completion, giving you a chance to see the effects of the moral choices that can be made; perhaps while braving the rigors of the hard difficulty setting.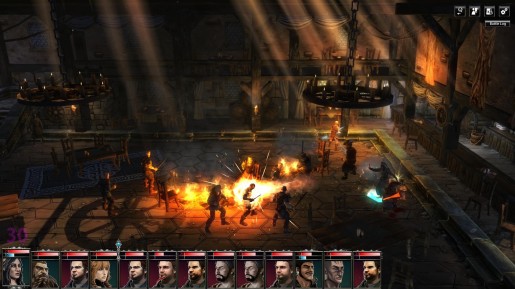 All things considered, Blackguards is a good example of a tactical role-playing game with good presentation, satisfying combat and a reasonably entertaining story. The game will be a struggle for newcomers to the genre, though a worthwhile one, which could have been somewhat mitigated by a more comprehensive tutorial. If you desire a tactical challenge however, and are willing to spend a little time somewhat bewildered, then you should definitely think about picking up Blackguards.
Blackguards Review

,