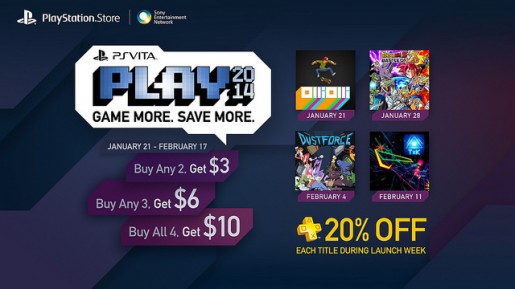 Sony took to their official blog today to unveil what they are calling the PS Vita PLAY promotion. This promotion is a four-week long event that will feature some new PlayStation titles, discounts for PS Plus members, as well as a rebate program. The official PlayStation blog describes the promotion as:
Each week for the next four weeks on PS Store, a new PS Vita game will be released as part of the PS Vita PLAY promotion. If you are a PlayStation Plus member, you will receive a 20% discount on each PS Vita PLAY game during the launch week of each respective game. As an added bonus, anyone who purchases two or more PS Vita PLAY games from January 21st through February 17th will receive a bonus SEN wallet credit.

-Buy any 4 PS Vita PLAY games to get $10
-Buy any 3 PS Vita PLAY games to get $6
-Buy any 2 PS Vita PLAY games to get $3
The four games alluded begin this week with OlliOlli for this week at $10.39 rather than $12.99. Next week will see the launch of Dragon Ball Z: Battle of Z at $31.99 instead of $39.99. The third week of the event will hold the launch of Dustforce at only $7.99 instead of $9.99. Lastly, TxK will be available the final week for $7.99 instead of $9.99.
If you have a PS Vita and are a PS Plus member, don't miss out on this sale!