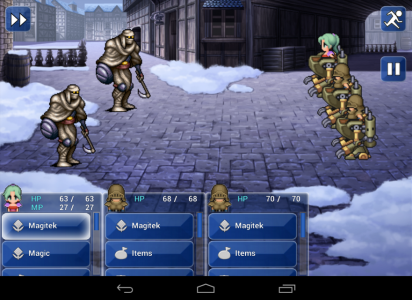 Final Fantasy VI just released on the Android platform for the first time less than a week ago. However, there is a major bug plaguing the game that makes it completely unplayable past somewhere around the midpoint of the game.
For those that have never played the game, you would be best to avoid this as it does feature some spoilers that occur during the game. Square Enix has actually confirmed, through Google Play store, the problem and that they will be fixing in the near future.
The following bugs have been confirmed and fixes are forthcoming:
– The game no longer crashes during the cutscene showing the fight between Kefka and General Leo.
– The icon for Sabin's Blitz ability now displays correctly.
– A misspelling of the term "Esper" has been corrected.
The wording is strange as it makes it sound like it's been patched, but this is just showing what they are working on. The major crash occurs during the fight listed above and makes the game impossible to play beyond that point. Stay tuned for information on when the game is patched.