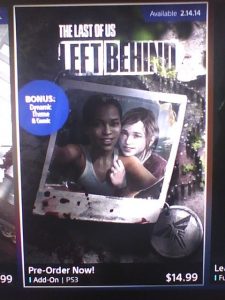 This is one of those rumors that seems very legitimate, but it still has no official confirmation. The first narrative DLC for The Last of Us titled Left Behind has been known to be coming fairly soon, and it looks like we may finally have a set release date now.
A poster on the gaming messageboard NeoGAF mentioned only a few hours ago that they were on the PlayStation Store on their PlayStation 3 and saw the above ad, which shows the DLC as coming on February 14. It was also discovered that when you view the listing online for the DLC, it has the same release date, which you can view here.
This would mean a release on a Friday, which could be good for gamers that have the weekend free and able to play through it in that time. Also, for those that have no significant other to spend Valentine's Day with, you can spend that time with Ellie and Riley in this new DLC instead.