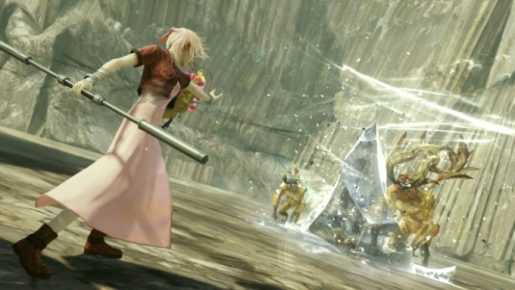 Lightning Returns: Final Fantasy XIII recently launched in Japan and had some planned DLC involving costumes for Lightning that are based on other characters in the Final Fantasy franchise. However, Square Enix made a mistake and accidentally broke a DLC agreement that has led to the removal one of these costumes.
Square Enix has made an agreement with the V Jump strategy guide to where it was the only way to get an Aerith-based costume for Lightning. However, they made a mistake and accidentally put up the costume for purchase. This led to the costume being removed as soon as the mistake was discovered, as well as the stopping of sale for the Cloud and Yuna-based costumes. An apology was tweeted out by the official Twitter account for the game, which has been translated by Dualshockers.
About this matter we apologize for the inconvenience to everyone and more than anything to our customers and to Shueisha. We will resume today the distribution of Cloud's costume from Final Fantasy VII and Yuna's from Final Fantasy X. We apologize to everyone that was waiting for the DLC.