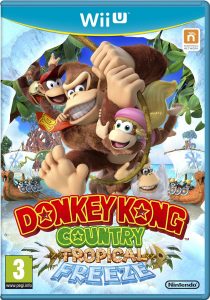 Donkey Kong Country: Tropical Freeze was originally scheduled for release this holiday season, but was eventually pushed back to February 2014. Today, Amazon Italy happened to upload an image for the cover of the game, that appears to possibly have leaked a fourth playable character. Do not read any further if you do not want to be spoiled prior to release.
The cover, that looks to be official, has not made its way to Amazon outside of Italy, but it seems to include an interesting character, Cranky Kong. Cranky Kong is the classic Donkey Kong from the arcades that took a backseat to the much younger version in the Donkey Kong Country series.
His appearance on the cover does not definitely confirm that he will be playable, but considering he is front and center with Donkey Kong, Diddy Kong, and the now-playable Dixie Kong, you would think the chances are pretty good. With Nintendo appearing to have a presence at the VGX, as we reported earlier, perhaps we will see an official unveiling.