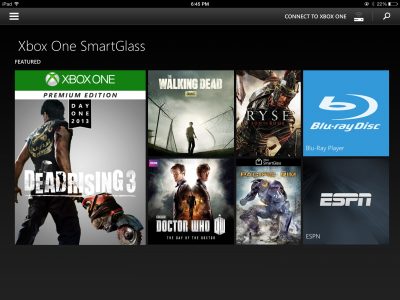 Microsoft has finally released today the SmartGlass app for Xbox One ahead of the console's launch this Friday, November 22nd.
Starting today, future Xbox One owners can now download the SmartGlass app via iTunes or GooglePlay. Similar to Xbox 360's SmartGlass, the app for Xbox One will allow you to navigate your Xbox One console, search for content, pin it, browse the web on your TV using your device, message friends, watch video clips and more. Not to mention games like Dead Rising 3 will make use of the Smartglass app when it launches later this week.
Check back with us later this week for our coverage of the Xbox One. For now, go ahead and download the app.