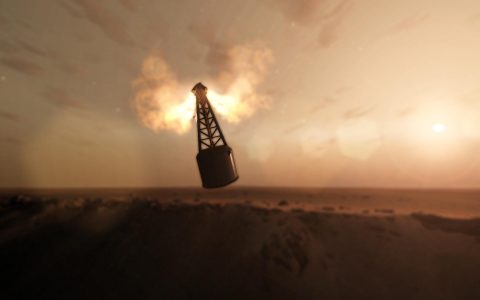 The science and exploration sim Take on Mars, published and developed by Bohemia Interactive, is in early access at the moment and today saw the release of the third major game update.
The update dubbed 'Tech-Enhanced' implements a technology tree, two new crater locations, two new vehicles as well as displays for global objectives and improvements to the landing system. The new vehicles consist of a super-basic probe (pictured) and the Prop-M Soviet lander, which was the first craft ever to achieve a successful (if short-lived) soft landing on Mars in Ptolemaeus Crater in 1971. The two new crater locations include the aforementioned Ptolemaeus Crater as well as Lyot Crater, which is notable due to the river valleys spotted there by the Mars Reconnaissance Orbiter as well as being the deepest point in the Martian Northern hemisphere.
Take On Mars is currently available for 13.99 EUR/ 17.99 USD/ 11.99 GBP on Steam as well as directly from the Bohemia Store.