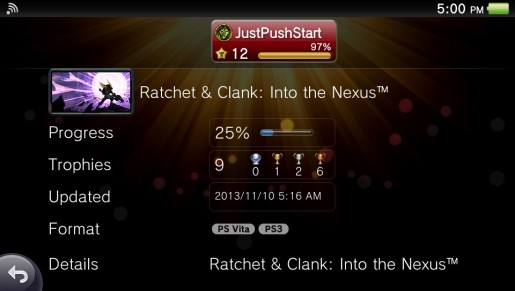 Ratchet & Clank: Into the Nexus will hit stores tomorrow for the PlayStation 3 exclusively, at least from what Insomniac Games has said so far. However, during our own playthrough of Ratchet & Clank: Into the Nexus for PlayStation 3, we have noticed some very interesting signs that this game may not be exclusive to the console for very long.
The first thing we noticed was the ability to use the cloud for all saves, which is usually only used with titles that offer cross-save between the PlayStation 3 and PlayStation Vita, such as Dragon's Crown. That was more of a speculation based observation, but the next one is either a very big mistake or a sign of things to come.
After playing the game on the PlayStation 3, we looked at the trophy section on the Vita and noticed that the format for the game was listed as both PS3 and PS Vita, as you can see in the above image. This could always mean that a Vita release was planned and cancelled at some point, but you would assume that it would have been taken out if that was the case. At this point, we will have to wait for Insomniac Games to come out and address this in the near future.
For more information on Ratchet & Clank: Into the Nexus, check out our review.