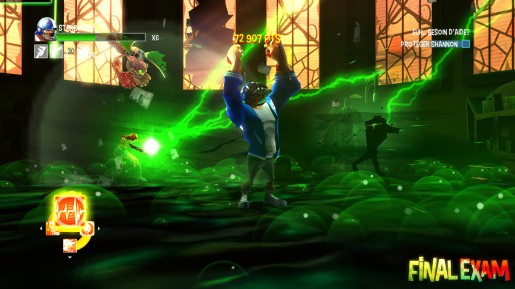 Final Exam also introduces a little RPG element with a character power-ups tree. As you play through the levels, you will obtain more CP and SP that can be used to increase your stats or get new abilities respectively. I highly recommend getting the two med pack power-ups as quickly as you can as they will restore more health per use with the upgrades. There is also an ability called Bim Bam Boom that you can eventually unlock that is absolutely vital later in the game against enemies that actually block your attacks. It will allow you to smack enemies into the ground after picking them up, which lets you to get around their defenses. The only problem I really had with this system is that just by playing through the game once, I was able to unlock almost all of the abilities, so having more of them to allow for more customization could have been nice.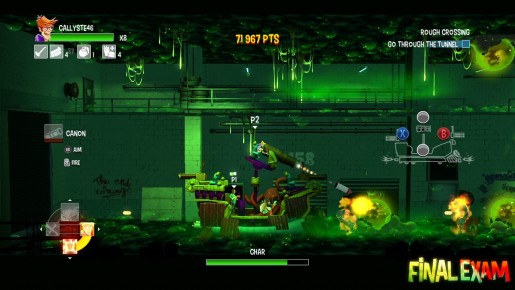 The locations for the game were nothing standout for the most part. The first few stages were set in a subway and were nice in size, but pretty similar throughout. This seemed to be the theme with the rest of the game as well, with most stages being about the same with different coats of paint. There was nothing bad about the level design, but it just never really caught my eye much, as every single level was a collection of rooms connected by staircases and ladders. One gameplay change occurred in one of the usual locations where you take control of a ship looking train and can use different sections of it to attack with machine guns and a missile launcher. Really about the only actual change in location occurred during the seventh level as you take to the skies to fight against some flying zombies and the Crusher boss. It was good to do something new, but it had some long areas of little going on that could have been condensed.
At all times while playing, you will have an objective marker on the screen telling you where to go, sometimes even multiple markers. These icons are very helpful and easy to follow while traveling all around the map. Some of these will lead you to a specific area or person, while others will lead to you items you must pick up and return to a central location. The only complaint with this that I had while playing is the lack of a map of any sort in the game. Many times you will have as many as five or so objective markers that you can go after, and a map would help to know which one you should tackle first and so on to complete your missions quicker.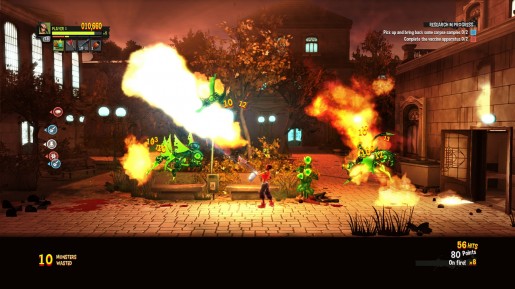 Final Exam also boasts an online multiplayer element, which helps to extend your time with this already decently long game, for a downloadable title at least. You have the ability to jump into a game instantly through quick match or setup a match just for you and your friends. This type of game is best experienced with a group of people, especially if you are able to communicate with one another to coordinate on who should take out what enemies.
In a time where zombies are absolutely everywhere, Final Exam manages to stand out as a solid 2D sidescrolling beat-em-up. While the game can be kind of repetitive, the controls are very easy to learn and the mechanics are quite fun to learn, with the chance to upgrade your character with new weapons and abilities as you play through the game. It is quite simple to jump in and out of each of the eight stages, so you can easily start up a level and play when you may have a limited amount of time. Final Exam is well worth your time if you really enjoy classic style beat-em-up games with a little bit of a twist, especially at a price of only $9.99. You can download it now on Xbox 360, PlayStation 3, and PC.
[Editor's Note: Final Exam was reviewed on the Xbox 360 platform. The game was provided to us by the publisher for review purposes.]
Final Exam (Xbox 360) Review

,