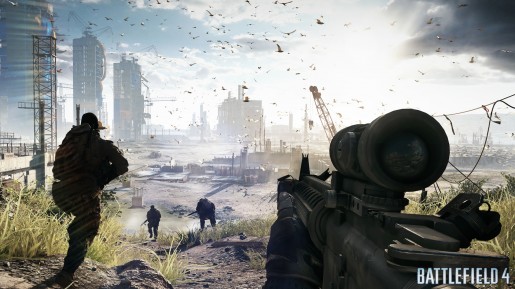 Players get to feel like they are both a small part of an overarching machine at the same time as being an important individual, capable of affecting any battle single-handedly. Even menial jobs such as transporting troops can have a huge impact on the result of a battle. By performing devastating flanking maneuvers and backing up others who are stuck in firefights matches can be won. Naturally, battles are often won by combinations of ground troops, with support from both air and sea. However, the close matches are often affected by heroics of an individual player with perfect timing.
As the franchise has grown, so has the mind and creativity of the developers. This time around they have decided to follow the American saying of 'Bigger is Better'. Of course it wouldn't be a Battlefield game without plenty of destruction. If blowing up small houses and driving tanks through building walls wasn't enough, skyscrapers and water dams will be brought crashing down countless times throughout Battlefield 4's lifetime. It never gets boring to see and despite happening a number of times still results in a 'Holy ****' response every time, especially when it fall on top of your character.
Bouncing across the waves is a strangely satisfying experience on all of the sea vehicles and this is matched by the craziness that can be accomplished on an ATV. The tanks and personal carriers do offer a safer option of transport, but where is the fun in that? Getting into a forward position fast to hold an location can be key to winning vital points and this can often only be accomplished by putting pedal to the metal and hoping an enemy tank isn't set up waiting for you around the next corner. This is just one example of how the game can offer multiple routes with roles suited to different play styles being attached to them. Whether you would pick the slow tank over a fast ATV is, at the end of the day, up to you.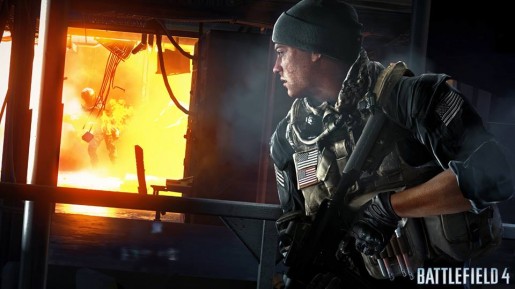 Battlefield 4 gives gamers plenty of reasons to keep playing with over 70 unique weapons to unlock, including nine different knives or blades to sneak up and embarrass enemy soldiers with. While the early levels pass rather quickly, allowing gamers to unlock some basic equipment later unlocks take time. On top of that, there are a decent range of attachments to try out. You will often find which scope you deem best isn't the same one as your friends, as they all offer a slightly different feel when used.
As with the storyline in Battlefield 4 it is once again a fun, explosive ride which feels like an additional element strapped onto the glorious online multiplayer section. Any first person shooter fan will be able to pick up and play the majority of the title, bar the aircrafts, with only the bullet dip adding a slight learning curve. Battlefield 4 does seem to offer a more realistic shooter than other game, but it keeps entertainment still firmly as a priority. For those looking for a solid gameplay experience coupled with some incredible graphics that can make your jaw drop, look no further.
[Editor's Note: Battlefield 4 was reviewed on the PS3 platform. The game was provided to us by the publisher for review purposes.]
Battlefield 4 Review

,